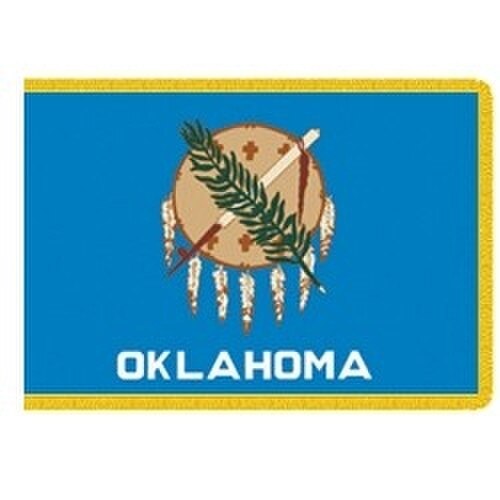 Details
Indoor Oklahoma flag feature superior craftsmanship with reinforced lock stitching and bold, vivid colors. These flags are crafted in our exclusive Beacon® Nylon and are available in two sizes to ensure that you get the right flag for your flagpole and display space. For more information about our Indoor Oklahoma flags see the description tab below.
Indoor Oklahoma flags are finished with a lined pole sleeve and traditional gold fringe around the three remain sides. These flags are available in two sizes: 3'x5' and 4'x6'. Our exclusive Majestic® Telescopic Pole displays both flags splendidly. The 8' Jointed Oak Pole is best suited for use with the 3'x5' Oklahoma flag while the 9' Jointed Oak finished Pole is the best choice to display the 4'x6' Oklahoma flag.
Carrot Top has broad selection of custom, flag and patriotic products, including American flags in several sizes and fabrics. Our Patriarch® Polyester American flag and the Beacon® Nylon American flag are two of the finest flags obtainable. Carrot Top also provides flags of US Cities, NFL team flags and NCAA College Sports flags.