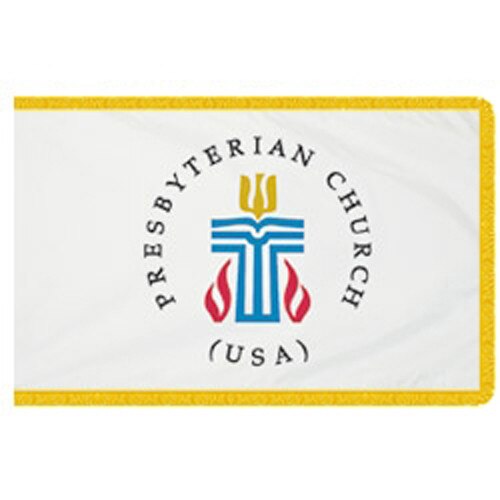 3' X 5' Indoor Presbyterian Flag
Details
Our 3' x 5' Indoor Presbyterian Church flags are tailored with beautifully woven nylon and feature a digitally imprinted design. These indoor and parade flags are built to last. Our Indoor Presbyterian flags showcase bright bold red, blue and yellow colors and three edges are trimmed in plush gold fringe. Choose the quantity you desire and click "Add to Cart" to get your Presbyterian Church flag today. For more information about our Indoor Presbyterian flag see the description tab below.
LIMITED QUANTITIES AVAILABLE
3' x 5' Indoor Presbyterian Church Flags are visual symbols of the power, faith and influence of the Presbyterian Church. These flags are fashioned with 200 denier nylon and feature intricate, reinforced lock stitching. Our Presbyterian flags are beautifully made with a lined pole sleeve and trimmed with thick, plush gold fringe. These flags are perfect for use at your local church, church convention, business or organization. The 3'x 5' Presbyterian flag pairs best with an 8' indoor or parade flag pole. Carrot Top' exclusive Majestic Telescopic Pole and our Jointed Oak-Finished Pole are two great flagpole options. Our Majestic Poles adjust from 5-9' and are easy to assemble and transport. Our Jointed Oak Finished Poles are 2-piece hardwood poles with brass joint features. Shop our complete collection of Presbyterian flags.