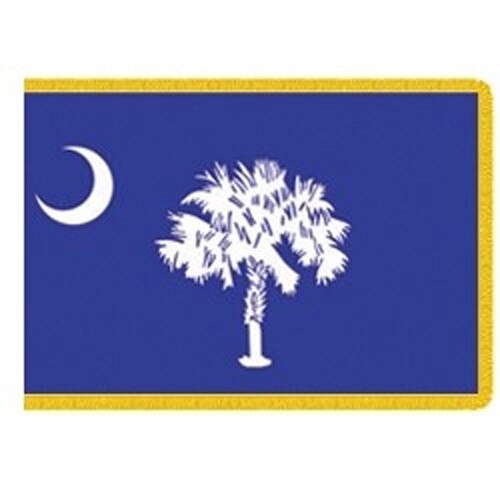 Indoor South Carolina Flags
Details
Indoor South Carolina Flags are beautiful flags that create the most distinctive and distinguished displays in your home, office, church, school, building or location. These flags are available in two size and showcase exquisite artistry, rich, bold colors and reinforced lock stitching. For more information about our Indoor South Carolina flags see the description tab below.
Indoor South Carolina flags are crafted in our exclusive Beacon® nylon and make great indoor presentation and parade flags. These flags are available in sizes 3'x5' and 4'x 6'. Both flags are a perfect display match for our exclusive Majestic® Telescopic Pole. This adjustable pole is easy to assemble and transport and has the option of three pole finishes: gold, chrome and wood –grained. The Jointed Oak finished pole offers a more traditional style of display with two flagpole height options. The 8' Jointed Oak Pole works best with the 3x 5' Indoor South Carolina flag and the 9' Jointed Oak Pole displays the 4'x6' South Carolina flag best. Indoor Beacon® Nylon South Carolina flags are crafted with strong, beautifully woven nylon. Indoor South Carolina flags are tailored to last.
Carrot Top has a long tradition of supplying the highest quality products including American flags, custom signs, banner and decals and patriotic items. Our American flags include our exclusive fabric brands the Beacon® Nylon American flag and the Patriarch® Polyester American flag. Carrot Top also fashions NFL team flags, NCAA college sports flag and flags of several US cities. For further details, please fill out our contact us form and one of our Customer Care Representatives will be in touch with you.