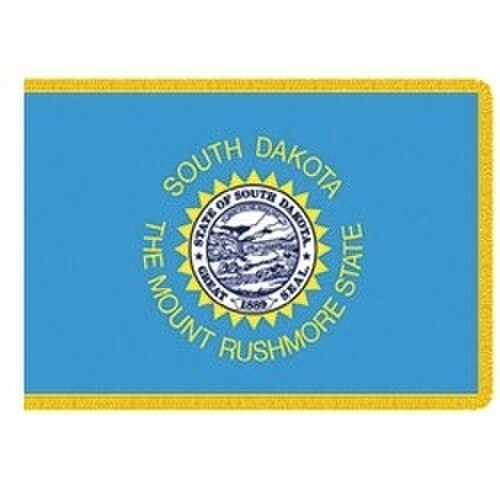 Indoor South Dakota Flags
Details
Indoor South Dakota flags are crafted in our exclusive Beacon® nylon and are available in two sizes. These flags create splendid displays showcasing the state flag of South Dakota with rich bold colors, plush gold fringe and classic distinction. Our Indoor flags are perfect for any location or space. For more information about our indoor South Dakota flag see the description tab below.
Indoor South Dakota flags are finished with a lined pole sleeve along the left side and traditional gold fringe around the remaining sides. Indoor flags are available in two sizes: 3'x5' and 4' x6'. The 3'x 5' South Dakota flag matches our exclusive Majestic® Telescopic Pole and an 8' indoor/parade flag pole in rooms with a clearance of at least 8.5'. The 4'x6' South Dakota flag displays best with our Majestic® Telescopic Pole or a 9' indoor/parade flagpole in rooms with a ceiling clearance of at least 9.5'.
Carrot Top supplies a wide variety of custom, flag and patriotic products which includes items for permanent displays or onetime presentations. Our collection of flags includes American flags of various sizes and fabrics, flags of US Cities, NFL team flags, NCAA College sports flags and more. Our talented graphic artists are skilled in replicating images and logos for custom street banners, signs, tents and decals. Carrot Top also provides patriotic décor. For further details, please fill out our contact us form and one of our Customer Care Representatives will be in touch with you.