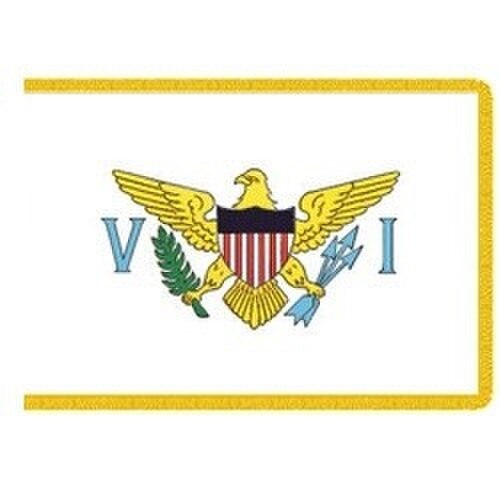 Indoor Virgin Islands Flags
Details
Indoor Virgin Islands flags are designed with the highest quality materials and showcase beautiful bright colors and exquisite lock stitching. These flag create dynamic displays of the U. S. Virgin Island's stunning flag. Carrot Top offers two sizes of Indoor flags so that you may select the right flag for your flagpole's height. For more information about our Indoor Virgin Islands flag see the description tab below.
Indoor Virgin Islands flag are tailored in two sizes and feature a lined pole sleeve on the left side and plush, traditional gold fringe on the three remaining sides. The 3'x5' Virgin Islands flag is best paired with an 8' indoor or parade flagpole. Our Exclusive Majestic Telescopic Pole and our 8' Jointed Oak finish Pole are both excellent options. The 4" x 6" Virgin Islands flag would exhibit best with a 9' indoor or parade flagpole. The 9' Jointed Oak Pole and the Majestic Telescopic Poles would pair perfectly with the larger size of the flag.
Carrot Top takes great pride in fashioning items that enhance the lives of our customers. Whether through our flags, custom items or patriotic decorations, Carrot Top strives to exceed our customers' expectations. Our American flags are some of the finest flags available and include our Patriarch® Polyester American flag and our Beacon® Nylon American flag. Carrot Top also designs custom street banners, signs, and decals that will display the image, logo or photo of your choice. For further details, please fill out our contact us form and one of our Customer Care Representatives will be in touch with you.