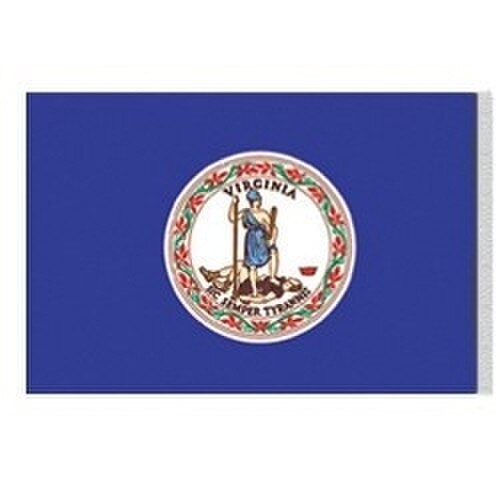 Details
Indoor Virginia flags create beautiful displays for your home, office, school, church or location. Carrot top's Indoor flags are available in two sizes and showcase exquisite, reinforced lock stitching and rich, bold colors. These flags meet the highest standards of craftsmanship and durability. For more information about our Indoor Virginia flags see the description tab below.
Indoor Virginia flags are fashioned in our exclusive Beacon® Nylon and are available in two sizes. These flags are finished with a lined pole sleeve along the left side and plush, white fringe at the fly end. Choose the flag size that matches your flagpole's height. The 3' x 5' Virginia flag is designed for use with an 8' indoor or parade flagpole in spaces with at least an 8.5' ceiling clearance. The 4' x 6' Virginia flag is best displayed with a 9' indoor or parade flagpole in spaces with at least a 9.5' ceiling clearance. Both flags are perfect fits for Carrot Top's exclusive 5-9' Majestic Telescopic Pole. Our Jointed Oak finished Pole is also an option as it is available in 8' and 9' poles.
Carrot Top fashions a variety of products which cater to your needs. Our American flags are made with the finest materials and include our Patriarch® Polyester American flag and our Beacon® nylon American flag. Carrot Top's team of graphic artist is quite skilled in transforming your artwork into beautiful custom street banners, signs, mats and decals. Carrot Top is your one stop for flags and signature custom items. For further details, please fill out our contact us form and one of our Customer Care Representatives will be in touch with you.