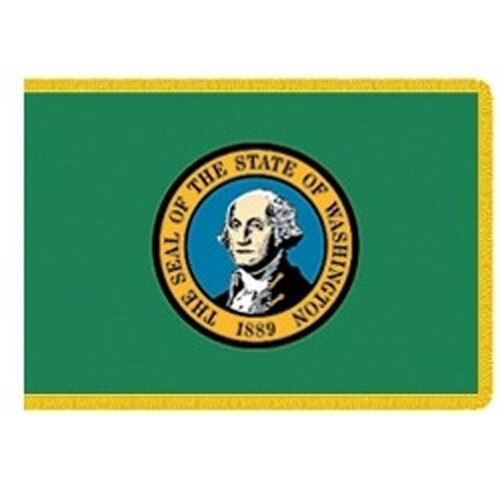 Details
Indoor Washington Flags are crafted in one of Carrot Top's exclusive fabrics and are available in two sizes. These flags create dynamic indoor displays for your home, office, school, business or church. Indoor Washington flags feature bold, fade resistant colors and reinforced lock stitching to prevent fraying. For more information about our Indoor Washington flag see the description tab below.
Indoor Washington flags are tailored in our Beacon® Nylon and are available in sizes 3'x5' and 4'x 6'. These flags are finished with a lined pole sleeve along the left side and plush, gold fringe around the three remaining sides. The 3'x 5' Washington flag displays best with an 8' indoor/ parade flagpole such as our 8' Jointed Oak Pole and the our exclusive Majestic® telescopic Pole. The 4' x 6' Washington flag requires a 9' indoor flag pole and displays perfectly with either our 9' Jointed Oak finished Pole or the Majestic® Telescopic Pole. The Jointed Oak finished pole offers a more traditional look while the Majestic® Poles have three stylish finish options.
Carrot Top's custom, flag and patriotic products meet the highest standards of excellence. Our tradition of serving our customers extends over thirty years. Our American flags are some of the finest flags available and include the Patriarch® Polyester American flag and our Beacon® Nylon American flag. Carrot Top also supplies NFL team flags that allow you to cheer on Seattle's beloved Seahawks. Our NCAA College Sports flags make it easy to support the Washington Huskies and other college teams. For further details, please fill out our contact us form and one of our Customer Care Representatives will be in touch with you.