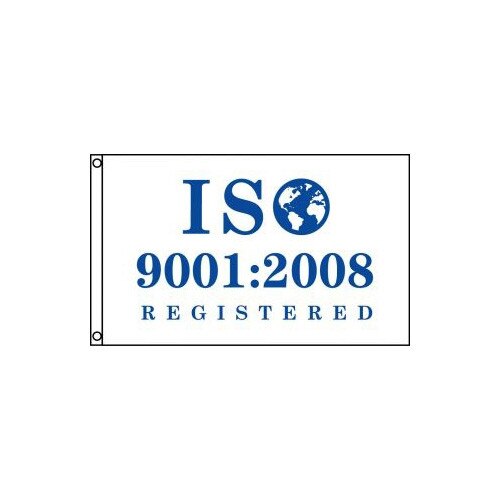 Iso 9001:2008 Corporate Flags - Blue
Details
Our ISO 9001:2008 Corporate Flags are a great, professional way to display your International Organization of Standardization Certification.
Should only be flown by companies who have met all the requirements of the Quality Management System (QMS) Audit
Constructed of our durable 200 denier nylon
Includes a canvas heading and brass grommets for easy attachment
Sizes available: 3x5', 4x6' & 5x8'
The ISO 9001:2008 Corporate Flag is a symbol of a great accomplishment. Great pride should be taken at the opportunity to fly this flag. Many organizations make ISO 9001:2008 certification a prerequisite to be considered as a supplier; this symbol means your company's management methods meet this standard. Made of durable yet quick-drying nylon, this white flag with blue imprint features a single-reverse construction and will display handsomely with your outdoor American flag and state flag of the same material. Available in sizes 3x5', 4x6' & 5x8', we are sure to have the appropriate-sized flag for flagpoles ranging from 15'-35', depending on the number of flags being flown on the same pole.
Along with the ISO 9001:2008 Corporate Flags, Carrot-Top Industries also offers a wide range of advertising flags for your business or company event. In addition, custom flags are also available and will afford you the option of having your company name and logo printed for a one-of-a-kind flag that is all your own. For your outdoor patriotic flag display, our Beacon® Nylon and Patriarch® Polyester outdoor United States flags are American-made and are best-suited for light to moderate winds and heavier winds and more extreme weather environments, respectively. For more information, please fill out our contact us form and one of our customer care representatives will reach out to you!