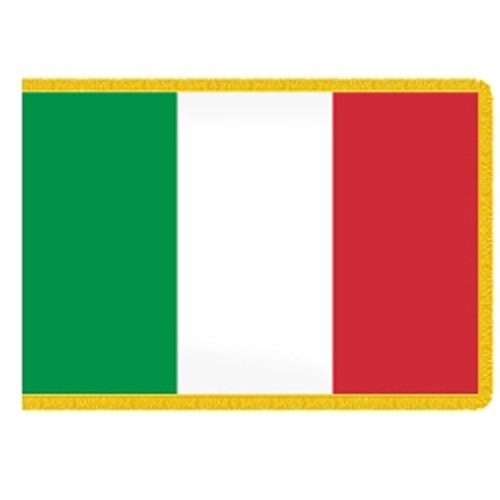 Details
Indoor Italy flags are crafted with super strong nylon and feature bold colors and intricate lock stitching. These indoor flags create beautiful displays in almost and location or space. Show off your pride for Italy with style with our Indoor Italy flag. For more information about our Italy Indoor flag see the description tab below.
Our Indoor Italy flags are 3'x5'. These superior flags are fashioned with a lined pole sleeve on the left side and plush gold fringe around the three remaining sides. Indoor Italy flags are perfect for parades indoor displays. The 3'x 5' Indoor Italy flag pairs perfectly with our Majestic® Telescopic Pole and our 8' Jointed Oak finished pole. Majestic ®Poles are adjustable and very easy to transport and assemble. Majestic Poles have three finished options. Jointed Oak Finished Poles offer a more traditional look and feature a two piece hardwood oak finished pole.
Carrot Top offers a broad assortment of custom, flag and patriotic products. Our American flags are some of the finest flags obtainable and include our Beacon® Nylon American flag and our Patriarch® Polyester American flag. Carrot Top also offers a broad range of custom products. Our graphic artists are skilled in replicating your logos, images and artwork onto banners, table covers, signs, and decals.
Pair your Indoor Italy flag with a mini Italy flag or and Italy flag Lapel pin. For more information about Indoor Italy flags or any Carrot Top item please fill out our contact us form today!