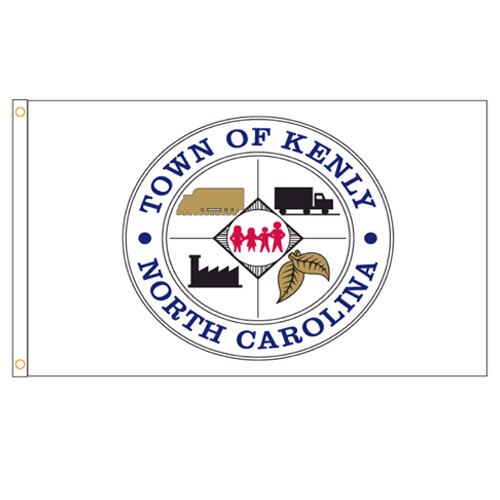 Details
Our 3' x 5' Town of Kenly, NC flags feature unmatched craftsmanship, beautiful bold colors and sleek premium nylon.
Polished, finely woven 200 Denier Nylon
Sized to conveniently fit most flagpoles
Fitted with a strong canvas header and solid brass grommets for extended outdoor use
Proudly crafted and tailored in the U.S.A.
Our Town of Kenly flags are crafted with the finest materials and showcase vibrant colors that resist fading. Our town and city flags look great in almost any location. These town banners are super strong yet so lightweight that they wave effortlessly and beautifully in the slightest breeze. The flags feature superior nylon and often appear to shimmer in the sunlight. Designed with a strong canvas header and brass grommets, these flag are built for extended outdoor use. The Colors on theses flag are rich and robust as they digitally imprinted through our dye sublimation process. Kenly, NC flags proudly display symbols of the town's commerce, industry and agriculture in a crisp colorful gold, black and blue design on a white field. Kenly is located in Johnston County, NC and its storied history is linked to building of railroads during the two decades preceding the Civil War. For more information about Kenly or the history and design of its flags contact the Town of Kenly.
Carrot-Top's assortment of products, services and items includes a broad range of patriotic, special event and custom-made products. Our flags include some of finest flags and banners attainable anywhere. Shop our sports flags which include Major League Baseball team flags, NFL team flags, and NCAA college sports team flags. Our custom products include items that may made- to- order to showcase or highlight our company, organization or school with the design, photo or image of your choice. For more information about any of our products and services Carrot-Top provides please fill out our contact us form and one of our Customer Care Representatives will be in touch with you!