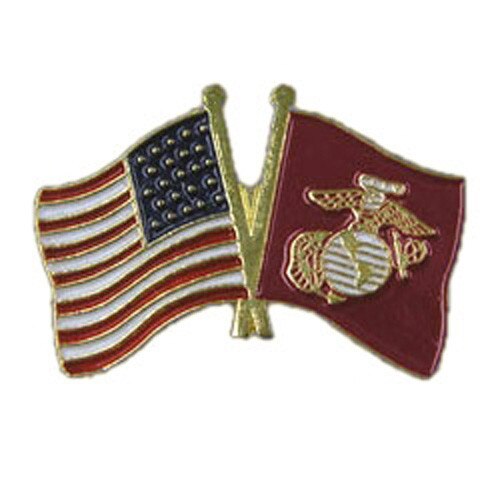 American And Marine Corps Flag Lapel Pin
Details
Our American and Marine Corps flag lapel pins feature the American flag and the Marine Corps placed at a 45 degree angle from each other. Both flags feature a waving motion with waves running through the flags.
Our American and Marine Corps flag lapel pins are finished with intricate details and high quality enamel to allow for long term use. For more information see the description below.
p>The American and Marine Corps lapel pin is designed with a clutch back closure at the intersection of the two depicted flag staffs. The centering of the latch allows for a balanced display when attached to any fabric or article of clothing. The Marine Corps flag pin features the official Marine Corps insignia with its signature scarlet red and the eagle globe and anchor insignia. The Marine Corps insignia symbolizes its strength and ability to serve the country in any part of the world and the Marine Corps Naval tradition.
See our full collection of Military lapel pins and military patches to represent or honor the U.S Armed Forces. Browse through all our military and memorial products like official Military flags for all departments, POW MIA flags and Military grave markers. Military products go great with our patriotic decorations and American flags. Our exclusive Patriarch® polyester American flags and Beacon® nylon American flags are customer favorites and are known to exceed the industry standard for life time. For more information about our products please fill out our contact us form and one of our Customer Care Representatives will be in touch with you!