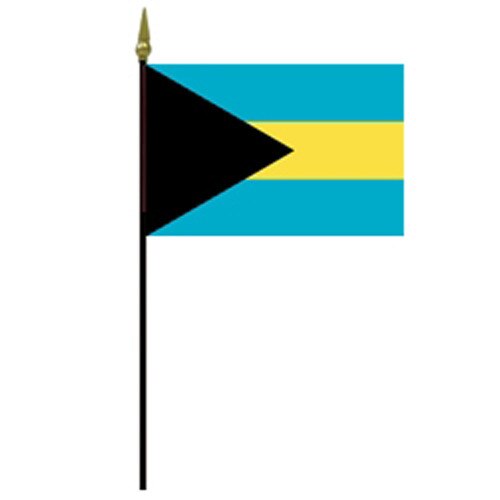 Details
HOW TO ORDER CORRECT QUANTITY FOR 4" X 6": QTY 1 = 12 FLAGS. OTHER SIZES SOLD INDIVIDUALLY.
Mini Bahamas flags are both beautiful and long-lasting. Available in two sizes, these miniature Bahamas flags are mounted onto a black plastic staff or dowel with a plastic, gold spearhead. Mini flags are fun and create excitement as they may be waved at event or celebration or displayed in your car or on a desk. For more details about our Mini Bahamas flags see the description tab below.
Mini 70 denier nylon Bahamas flags showcase bold aquamarine, black and gold colors. These flags are available in two sizes: 4" x 6" and 8" x 12". The 4"x6" Mini Bahamas flag has a 10" staff while the 8"x 12" Miniature Bahamas flag has an 18"x ¼" staff. Our wood table bases are also available to create a sleek mini display for table and shelves. These flags feature strong durable stitching and are designed for multiple uses.
Carrot Top's has a broad array of flags and products which include international country flags, sports flags, historical flags and novelty flags. Our exclusive flags, the Patriarch® Polyester American flag and the Beacon® Nylon American flag, are noted for their durability and long-lasting strength. Carrot-Top also supplies custom products such as banners, flags, and grave markers. For further details, please fill out our contact us form and one of our Customer Care Representatives will be in touch with you.