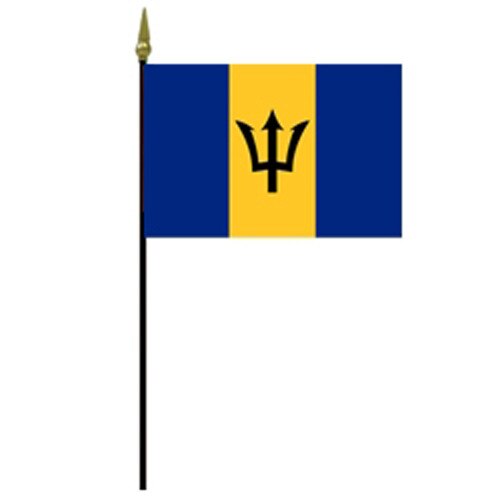 Details
HOW TO ORDER CORRECT QUANTITY FOR 4" X 6": QTY 1 = 12 FLAGS. OTHER SIZES SOLD INDIVIDUALLY.
Mini Barbados flags are one of the best ways to show and share your love for this beautiful island nation. These flags showcase the beautiful blue and gold colors of the Barbados flag with an attractive miniature flag that is perfect for sports celebrations, holidays and parades. These flags are available in two sizes. For more information about Our Mini Barbados flags see the description tab below.
Mini 70 denier nylon Barbados flags feature exquisite lock stitching which extends the life and use of the flag. Mini Barbados flags are available in two sizes: 4"x 6" and 8" x 12". Both miniature flags are mounted on a black plastic staff or dowel with a gold spearhead. The smaller 4"x 6" Barbados flag has a 10" staff and the 8"x 12" Barbados flag has a staff size of 18".
Carrot-Top offers products in several categories, including custom items, patriotic products, and flags. Our flags are available in several varieties and sizes, which include international flags, religious flags, novelty flags, and sports flags. Our American flags include our Patriarch® Polyester American flag and our Beacon® Nylon American flag. Our custom products include banners, flags, floor mats, table covers, and grave markers that may be customized to advertise your business or organization. For further details, please fill out our contact us form and one of our Customer Care Representatives will be in touch with you.