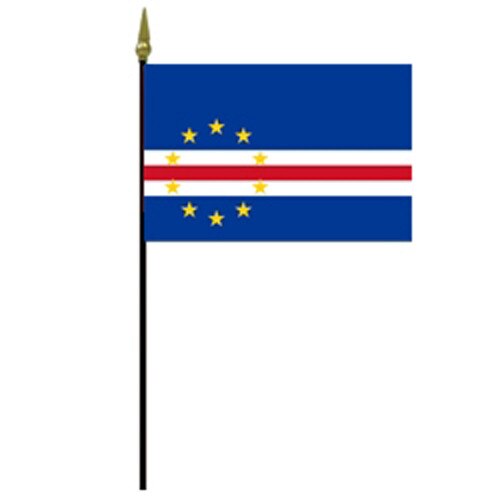 Details
HOW TO ORDER CORRECT QUANTITY: QTY 1 = 12 FLAGS
Our Mini Cape Verde flags are economical handheld flags ideal for national rallies and large scale events to celebrate Cape Verde as a nation.
Flags measure 4" x 6"
Attached firmly to a black staff for easy handling
Feature the exact design of the Cape Verde national flag as written into Cape Verde Law
The Mini Cape Verde flags are a perfect addition to your event or desk. These flags are ideal for use as giveaways and can be coupled with one of our mini flag accessories. These small Cape Verde flags are a great way to get an audience involved in an event, creating a lively atmosphere. The mini flags are made of 70 denier nylon. The flags are fitted with a black plastic staff which runs 10" in length. The staff is finished with an ornate spear top for a professional look.
The Mini Cape Verde flag features the exact design shown on all official Cape Verde flags. They feature a blue background symbolizing the sea and sun with three horizontal stripes placed approximately two thirds of the way down on the flag. The stripes are colored in white and red with the red stripe placed in between two white stripes. In the lower left portion of the flag is a circle made of 10 yellow five-pointed stars. The stars represent the islands that make up Cape Verde.
See our outdoor Cape Verde flags and indoor fringed Cape Verde flags. Our flags can easily be paired with one of our flag poles. Our collection includes parade and indoor flag poles as well as outdoor commercial poles and outdoor residential flagpoles. For more product options browse through our custom products, property management supplies and our massive range of American flags for any situation. For more details about our products please fill out our contact us form today!