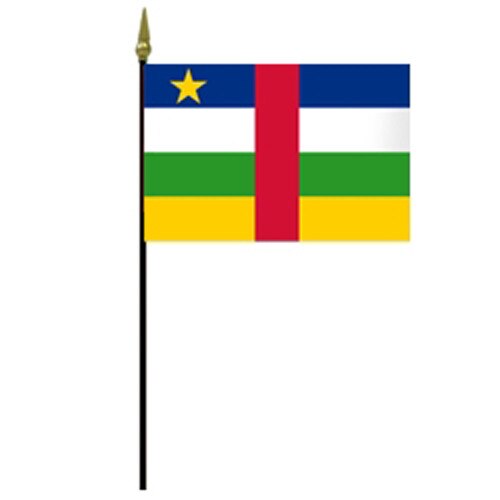 Mini Central African Republic Flag
Details
HOW TO ORDER CORRECT QUANTITY: QTY 1 = 12 FLAGS
The mini Central African Republic flag is a great way to celebrate the nation and are perfect for use as giveaways at rallies and other events.
Flags include a black plastic staff for easy handling
Can be coupled with table top accessories to make a desk flag
Measure 4" x 6"
The mini Central African Republic flags are inexpensive tokens that can be handed out to a crowd attending a national event to celebrate the Central African Republic. These flags are ideal for getting a crowd involved in an event. The hand held Central African Republic flags come with a 10" black plastic staff that can be held easily and waved for a striking display.
The mini Central African Republic flag features the official design of the flag with four horizontal stripes making up the main body of the flag and another vertical stripe in the center. The four horizontal stripes consist of a blue stripe on top, a white stripe, green stripe and then a yellow one. The flag also features a five-pointed yellow star placed on the top left corner of the flag, in the blue stripe.
See our outdoor Central African Republic flag and our indoor Central African Republic flag for indoor or outdoor displays in any setting. Pair our mini flag with our mini flag accessories for a perfect desk flag or mini flag set. Browse through our American flag collection including the exclusive Beacon® nylon American flag and the Patriarch® polyester American flag. See our custom products and property management products as well. For more information please fill out our contact us form today!