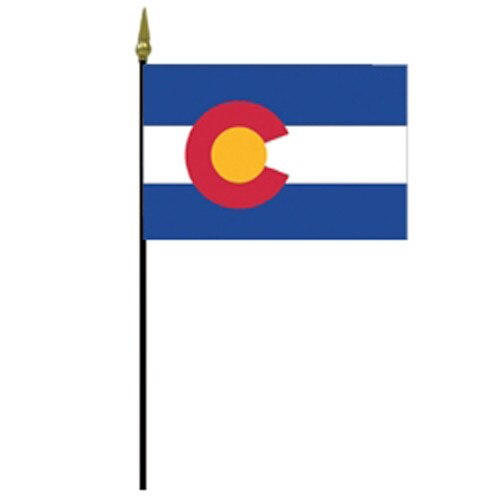 Mini Colorado State Flags
Details
HOW TO ORDER CORRECT QUANTITY FOR 4" X 6": QTY 1 = 12 FLAGS. OTHER SIZES SOLD INDIVIDUALLY.
Our Mini Colorado flags are a great way to show your love for the great state of Colorado. These miniature flags are available in three sizes and showcase the Colorado's beautiful state flag with its classic red, copper filled "C". Mini Colorado flags are priced affordably and are a great token of heritage to share with others. For More information about our Mini Colorado flags see the description tab below.
Mini Colorado flags are available in three sizes, 4x6", 8x12", and 12x18". The 4x6" & 8x12" flags are 70 denier nylon material mounted on black staffs. The 4x6" mini flag has a staff that measures 10" x 3/16" while the 8x12" mini flag has a staff size of 18" x ¼". TThe 12x18" polyester flags are mounted on a 30" x 5/16" natural wooden staff with a gold spear top. Each Mini Colorado flag features bright, bold colors and reinforced stitching on all sides. A is also available to create a distinguished display for your home, office or classroom.
Carrot Top is your one stop for patriotic products, flags and custom items. Our American flags are available in a variety of sizes and fabrics. The Carrot Top exclusive Patriarch® polyester American flag and our Beacon® nylon American flag are the best all-around and most versatile flag available. Each fabric is designed to withstand a different climate area so that you may choose the best flag for your needs. Carrot Top also provides Denver City flags and flags of US Cities. Select a custom NCAA College sports flags to support your favorite College or University or show your love for the Denver Broncos or your favorite NFL team with our NFL team flags. Consider pairing your mini Colorado flags with mini American flags. For further details, please fill out our contact us form and one of our Customer Care Representatives will be in touch with you.