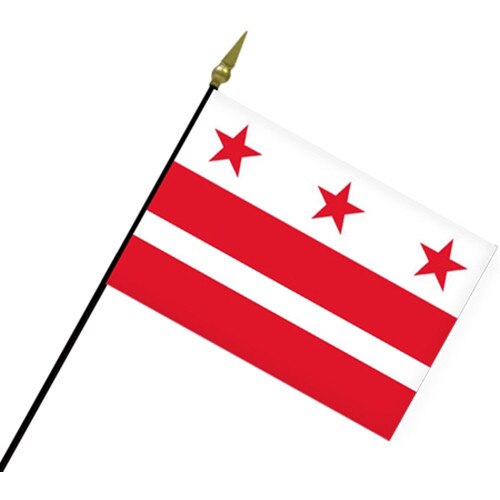 Mini District Of Columbia Flags
Details
HOW TO ORDER CORRECT QUANTITY FOR 4" X 6": QTY 1 = 12 FLAGS. OTHER SIZES SOLD INDIVIDUALLY.
Our Mini District of Columbia flags are perfect for parades, rallies, patriotic festivities and sporting events. Miniature D.C flags are affordably priced to share with friends, family, classmates, neighbors and co-workers. For more information about our mini D.C flags see the description tab below.
Mini District of Columbia flags are great way to show and share your love for the nation's capital. The 4x6" & 8x12" flags are 70 denier nylon material mounted on black staffs. The 4"x6" mini D.C flag has a staff size of 10" x 3/16". The 8"x12" miniature flag has a staff size 18"x ¼". These flags are great for public events but may also create classic and beautiful displays with our 1 hole Wood Table Base. Mini District of Columbia flags are great tokens of heritage to show your pride in the District of Columbia. Quantity discounts are available.
Carrot Top has a wide range of patriotic and custom products. Our American flags are available in a variety of sizes and fabrics. Our Patriarch® polyester American flag and our Beacon® nylon American flag are two of the finest flags available. Carrot Top designs our flags to meet the climate and environmental demands of your area. Consider pairing your Mini District of Columbia flag with a mini American flag or show your love for the Washington Redskins—or your favorite NFL team-- with one of our NFL team flags. NCAA college sports flags are also available. For further details, please fill out our contact us form and one of our Customer Care Representatives will be in touch with you.