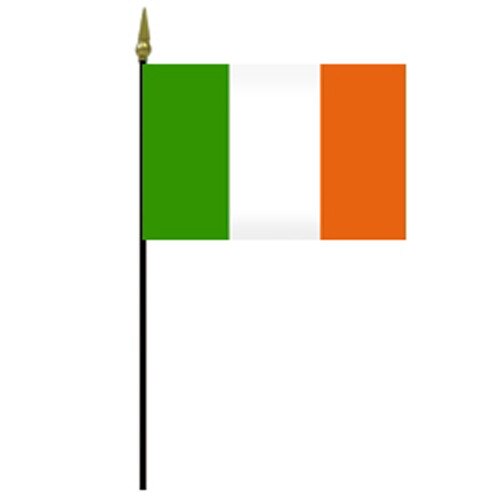 Details
HOW TO ORDER CORRECT QUANTITY: QTY 1 = 12 FLAGS
Mini Ireland flags are great crowd pleasers. Mini flags are perfectly priced to share with others and feature reinforced lock stitching and bold, bright beautiful orange, white and green colors. These hand held flags are the perfect token of heritage for all types of events. For more information about our Mini Ireland flags see the description tab below.
Mini 70 denier nylon Ireland flags are 4"x6" and are mounted onto a black plastic staff or dowel with a plastic spearhead. These mini flags have a staff size of 10" x 3/16". Mini Ireland flags never go out of style and make great gifts. Quantity discounts are available.
Carrot Top proudly offers a wide assortment of patriotic, custom and flag products for onetime events, ongoing presentations and permanents installments. Our American flags are some the finest flags available and include our Patriarch® Polyester American flag and our Beacon® Nylon American flag. Our graphic artists are skilled and experienced in replicating your artwork, images and logos onto decals, signs, tents and banners. Pair you mini' Ireland flag with an Ireland flag lapel pin. For more information about and of our Mini Ireland flag or any Carrot Top item please fill out our contact us form and a representative will be in contact with you!