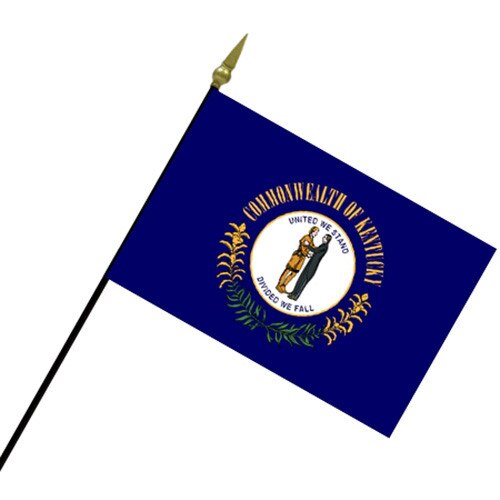 Mini Kentucky State Flags
Details
HOW TO ORDER CORRECT QUANTITY FOR 4" X 6": QTY 1 = 12 FLAGS. OTHER SIZES SOLD INDIVIDUALLY.
Mini Kentucky flags are a fun way to share your Kentucky pride with family, friends, neighbors and all. Perfect for parades, rallies and sports events, mini flags are wonderful tokens of heritage and make great keepsakes. Mini Kentucky flags are available in two sizes. For more information about Mini Kentucky flags see the description tab below.
Mini Kentucky flags are available in three sizes, 4x6", 8x12", and 12x18". The 4x6" & 8x12" flags are 70 denier nylon material mounted on black staffs. The 4x6" mini flag has a staff that measures 10" x 3/16" while the 8x12" mini flag has a staff size of 18" x ¼". The 12x18" polyester flags are mounted on a 30" x 5/16" natural wooden staff with a gold spear top. A 1-hole wood table base is optional and recommended to create a sharp display for the 8" x 12" flag. Mini flags are the perfect item to share with others. Affordably priced and easy to handle, these mini Kentucky flags make showing your state pride cool and enjoyable.
Carrot Top is a proud supplier of patriotic, flag and custom products for onetime events, ongoing presentations and permanent displays. Our American flags are some of the most well-crafted and long lasting flags obtainable. Our Beacon® nylon American flag is made with extra tough, durable nylon that dries quickly and is so lightweight the flags wave effortlessly in the slightest breeze. The Patriarch® polyester American flag is constructed with 2 ply polyester that is woven to have the texture and touch of cotton. Carrot Top also supplies NCAA College Sports flags to support the Kentucky Wildcats, the Louisville Cardinals or your favorite college team. For further details, please fill out our contact us form and one of our Customer Care Representatives will be in touch with you.