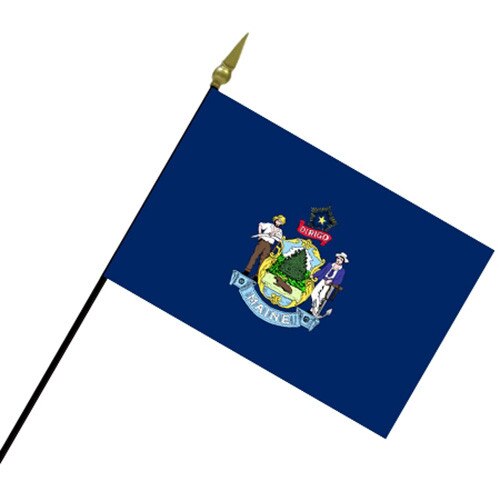 Details
HOW TO ORDER CORRECT QUANTITY FOR 4" X 6": QTY 1 = 12 FLAGS. OTHER SIZES SOLD INDIVIDUALLY.
Mini Maine flags are a fun way for everyone to show their love for the beautiful state of Maine. These flags depict the Maine Coat of Arms on a royal blue field and are made with the highest quality materials. Mini Maine flags feature reinforced stitching to prevent fraying and prolong durability. These may be used on multiple occasions. For more information about our Mini Main flags see the description tab below.
Our Mini Maine flags are made with a magnificent blend of polyester and rayon materials. Mini flags are available in three sizes, 4x6", 8x12", and 12x18". The 4" x 6" & 8" x 12" flags are 70 denier nylon material mounted on black staffs. The 4x6" mini flag has a staff that measures 10" x 3/16" while the 8x12" mini flag has a staff size of 18" x ¼". The 12" x 18" polyester flags are mounted on a 30" x 5/16" wooden staff with a gold spear top. Mini Maine flags are wonderful crowd pleasers perfect for parades, political events and rallies, sporting events and school functions. A 1 hole wood table base is also available with the 8" x 12" Maine flag and creates a sleek mini display for desks, tables, windows and classrooms. These flags are priced to share and quantity discounts are available. Give everyone you know a small token that shows great pride for the state of Maine.
Carrot Top proudly offers a large assortment of quality patriotic and custom products. Whether for onetime events or permanent displays, Carrot Top's team of customer service representatives is committed to finding the perfect items to fit your needs. Our American flags are made with the highest standards and tailored to perfection. The Beacon® Nylon American flag is made with super tough, durable nylon that dries quickly and flies effortlessly in the slightest breeze. Our Patriarch® Polyester American flag is the finest all- around flag available. For further details, please fill out our contact us form and one of our Customer Care Representatives will be in touch with you.