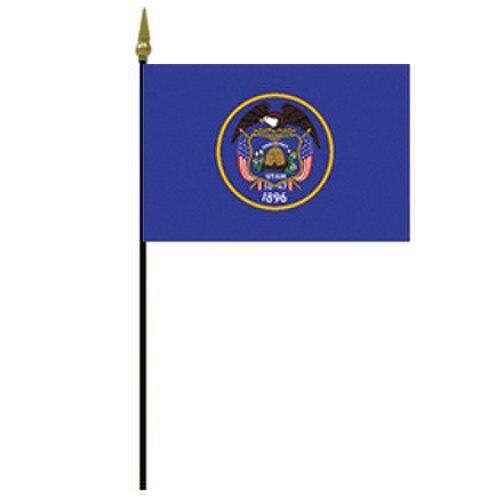 Details
HOW TO ORDER CORRECT QUANTITY FOR 4" X 6": QTY 1 = 12 FLAGS. OTHER SIZES SOLD INDIVIDUALLY.
Mini Utah flags are a great way to show your pride and love for the great state of Utah. These flags are fashioned with bold, rich colors and stitch-fly ends which resist fraying. Our Mini flags may be used on multiple occasions and have timeless pull. Celebrate Utah with these hand held flags at parades, rallies, sports events, elections and any occasion. For more information about Mini Utah flags see the description tab below.
Mini Utah flags are small tokens with huge patriotic appeal. The 4" x 6" & 8" x 12" flags are 70 denier nylon material mounted on black staffs. The 4" x 6" Utah flag comes mounted on a black plastic staff dowel that measures 10" x 3/16". The 8" x 12" mini Utah flag has a staff or dowel size of 18" x ¼". A 1 hole wood table base is available with this miniature flag and creates a cool mini display for desks, tables, shelves, cars and classrooms. The largest of the three Utah mini flags is a 12" x 18" polyester flag mounted on a 30" x 5/16" wooden staff with a gold spear top.
Carrot Top's custom, patriotic and flag products are tailored to meet your every need for onetime presentations, on-going displays and permanent installations. Our collection of American flags includes the Patriarch® Polyester American flag and the Beacon® Nylon American flag. Root for the Utah Utes and other colleges with our assortment of NCAA College Sports flags. NFL team flags and flags of US Cities are also available. For further details, please fill out our contact us form and one of our Customer Care Representatives will be in touch with you.