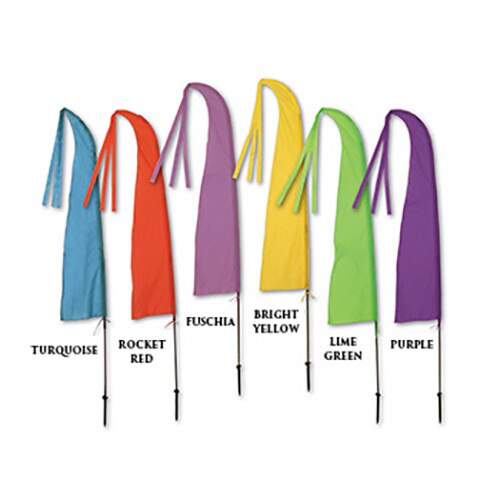 Bali Flag Set - Umbul Umbul Flag Set
Details
Bali flags, traditionally known as umbul umbul flags, are great advertising flags that can be used for decorative purposes as well. Our Bali flags come in a set of 6 flags in 6 different colors and the set includes everything you need to set up an in-ground umbul umbul flag display.
The Bali flags feature a slightly curved, tapering design that comes to a point on top where three tail streamers are connected. For more about the parts included in the set and the specifications of the flag see the description tab below. To start your order click on the "Add to cart" button below.
Bali flags are traditionally called Umbul umbul flags and are used as decorations for spiritual festivals in Bali. Traditional Bali flags were made of silk or other types of cloth. Our flags are made with light polyester material ideal for use in areas with light winds or for temporary decorative displays. Each umbul umbul flag and pole set has the following parts:
Six 5' woven polyester Bali flags with top tail streamers.
A five-piece pole with a ground stake for each flag.
The six flags included in the Bali flag set come in bright yellow, fuchsia, lime green, purple, rocket red and turquoise. Each flag is also fitted with a pole sleeve to accommodate the flag pole and drawstring for securing the flag on the pole. The flagpoles included in the set are made from durable and flexible fiberglass. Although thin, these flag poles are extremely flexible allowing for a freely fluttering flag. The ground stake included with the set is black in color and measures 9" in height and has a diameter of 1.6".
For similar products, browse through our entire collection of solid color flags and advertising flags. Our message flags and street banners are great ways to attract attention to your business or event and to increase exposure. Our high-quality custom products are also a great way to decorate for events and to get your logo or branding in front of consumers. Our custom flags, custom banners and custom street banners are all printed using high-quality digital printers for a sharp and photo-like graphic. All of our products are of the highest quality in the industry, Carrot-Top Industries is nationally known for our high quality American flags. For more about our products, please fill out our contact us form and one of our Customer Care Representatives will reach out to you!