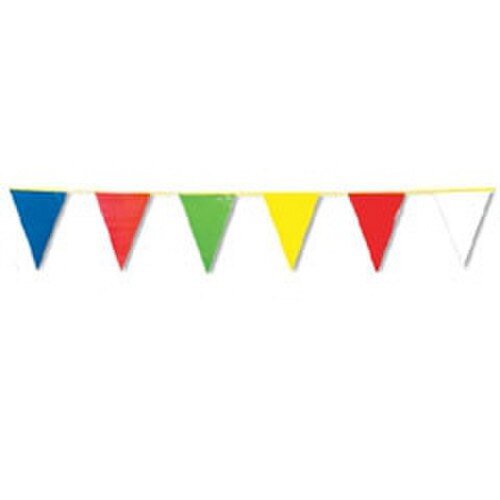 Multi Colored Pennant Flag String
Details
The multi-colored pennant flag string are brightly colored to attract as much attention as possible and to add color to your decorations. These pennant strings are ideal for both indoor and outdoor use.
These multicolored pennants are ideal for outdoor events, special occasions, openings or sales and are extremely versatile. These strings measure 25' in length. For more about our multi colors pennant flag strings see the description tab below.
The multi colored pennant flag strings are made of polyethylene fabric for short term outdoor use and indoor use in permanent or temporary displays. The pennants have a base length of 12" and the other sides measure 18" in length creating a triangular pennant. The pennants are attached to a vinyl string with high tensile strength and placed approximately 13" apart.
Buy a colorful pennant string to decorate a business opening, sale or party. These pennant strings are a great way to add color to any location to uplift the mood and energize a gathering.
See our entire collection of pennant strings for a perfect product to fit your needs. See our solid color flags, street banner, and all of our custom products to find products to help you attract attention to your special event or business. Our custom products include custom flags, custom pennants, and many other personalized items. Furthermore, browse through our American flags and heavy duty flagpoles to find a patriotic display or to buy an extra-large US flag to attract attention. For more about our products please fill out our contact us form and one of our Customer Care Representatives will reach out to you!