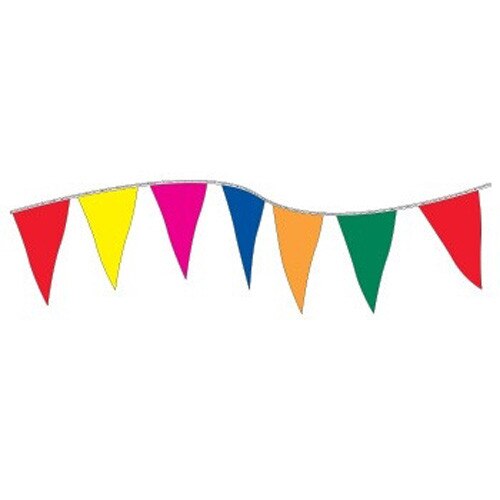 Multi Colored Fluorescent Pennant Strings
Details
The multi colored fluorescent pennant strings are designed for outdoor use in special events. These pennant flags are strikingly colored and are sure attract attention from people passing by. The strings are known to last for several months in all weather conditions and continuous display.
The fluorescent pennant strings are available in a 25' and 50' long string. For more details see the description tab below. To order select a size, enter the quantity you desire and click on the "Add to cart" button below.
Buy multi colored fluorescent pennant strings for any outdoor event in any location. These pennants are made using a strong and durable plasticloth material suited for use in all weather conditions. To increase the life of the pennants they are double-sewn and sag resistant.
The fluorescent pennants measure 12" at the base of its triangular shape and 18" long. The 25' long strings have 12 pennants per string while the 50' string has 24, they appear in alternating colors. The pennant are colored in brilliant red, Saturn yellow, flame pink, deep blue, blaze orange and signal green.
See our slim fluorescent pennant strings, Colorfest pennant strings, and the entire collection of pennant strings for similar options. We also provide you with the option to design your own pennant string. Pair these strings with our advertising flags, street banners and advertising message banners for an even large eye-catching display with more vibrant colors. Our custom products are ideal for personalized decorations see our custom flags, custom street banners and more. For a striking road side display consider our large outdoor American flags as well. Some of our outdoor U.S. flags measure 60' and more. For more information, please fill out our contact us form and one of our customer care representatives will reach out to you!