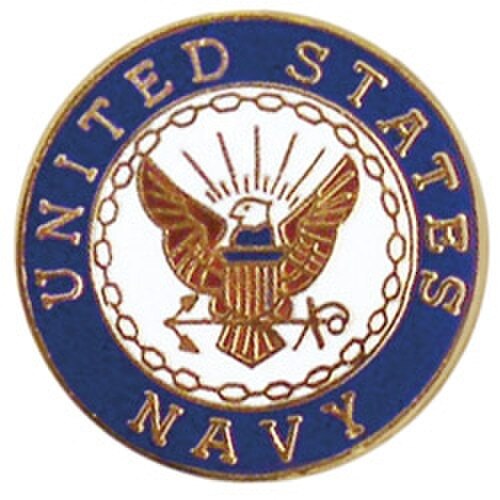 Details
Our Navy pins are ideal for any event or celebration. Represent or honor the brave soldiers in the U.S navy with the official insignia Navy pins. These pins feature extremely detailed graphics with high quality materials.
The Navy pins feature a safe clutch back closure ideal for use on a jacket lapel, button down shirt, back pack or any other fabric. For more information see the description tab below.
Navy lapel pins feature the official insignia of the United States Navy. The insignia consists of a spread eagle with a shield surmounted on the Eagle's chest region. The eagle is perched on a horizontal anchor. The entire insignia is placed on a white background encircled by a blue ring that reads "UNITED STATES NAVY". Our Navy pins are finished with gold accenting to give it a regal and professional look making them ideal for any event. Support or represent the U.S Navy at your next event by wearing a high quality Navy pin made from durable nylon for long term use.
Browse through our Navy flags and other military and memorial products. Our military flags are of the highest quality and available for both indoor and outdoor use. Pair a military flag with one of our many American flags for an ideal patriotic flag display. Other military products include POW MIA flags, wounded warrior flags, Veterans products, including Navy retired flags. For further information about our range of products contact one of our customer service representatives using our contact us form. All calls are handled by our in-house experts well versed in all products.