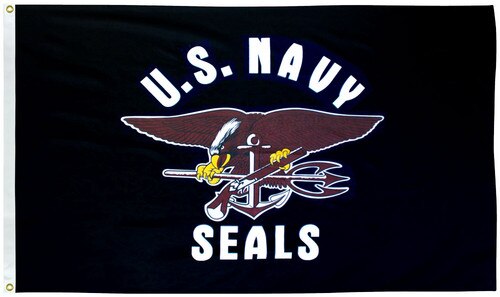 U.S. Navy Seals - 3X5' Endura
Details
Our Navy SEALs flag is made of strong and durable polyester and features a white canvas heading and brass grommets. Complete with a solid black background, the flag features the official warfare insignia known as the SEAL Trident. White lettering above and below the SEAL Trident boldly spells out the United States Sea, Air and Land team name. This flag is imported. To order this flag, please enter your desired quantity and click "ADD TO CART". For more information on our United States Navy SEALs Flags, please see the description tab below.
Our United States Navy SEALs flag measures 3x5' and is a great way to honor and support any U.S. Navy SEAL in your life. The flag is a perfect gift for that deserving SEAL and an ideal way to show support. Our polyester flags are ideal for outdoor use.
Founded on January 1, 1962 by President John F. Kennedy, the United States Navy SEALs are trained to maneuver through land, sea and air, as well as all environments from below zero temperatures to the high temperatures found in jungle terrain. Extending immense assistance during the Vietnam War, the bravery and selflessness of our SEALs did not go unnoticed. The active unit returned home, in 1973, as the most decorated unit for their size in the war. A total of 806 medals of recognition were awarded, including 3 Presidential Unit Citations, to our brave men who fought for our country.
In addition to the U.S. Navy SEALs Flag, Carrot-Top Industries also offers a wide range of Military products and patriotic gifts for each of the 5 major branches as well as Veterans and Support our Troops. Our American made United States flags are also available in a lightweight yet durable Nylon and a tough, sturdy Polyester. Our American flags are sure to pair beautifully with your Military flags as a gift or for everyday use on your residential flagpole.