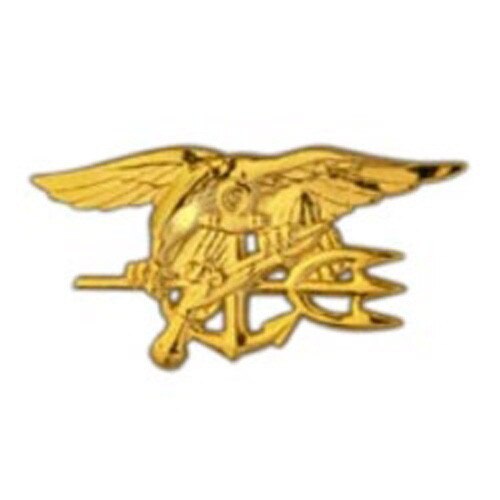 Details
The Navy SEAL trident pin, also known as the Special warfare insignia, is awarded to soldiers of the United States Navy who have completed the necessary training and have been designated as U.S Navy Seals. The SEAL Trident is one of the most recognized pins in the U.S Military.
Our Navy SEAL trident pin features the components seen in the official pin and intricate detailing to make each component stand out. For more information and history about the SEAL trident pin see the description tab below.
The Navy SEAL Trident pin has been the official badge of the SEALs since 1970. The SEAL trident badge is one of the only badges in the Navy today that is offered to both officers and enlisted personnel with no design or color changes. The SEAL trident consists of a golden eagle with an anchor, a flintlock style pistol and trident in its talons. The anchor symbolizes the Navy, the SEALs' parent military department. The trident symbolizes the connection a SEAL has with the sea. The pistol represents a SEALs combat capability. The eagle symbolizes America and the Navy Seals' airborne capabilities.
For more military products browse through our military and memorial category, including military flags for all branches. This category also houses our POW MIA flags, KIA flags, Wounded warrior flags, Veterans products and military grave markers to remember the brave warriors who made the ultimate sacrifice for America. For a patriotic flag display see our American flags available in many sizes. Complete your flag display with one of our high quality flagpoles. For further information, concerns or questions please fill out our contact us form and one of our Customer Care Representatives will be in touch with you!