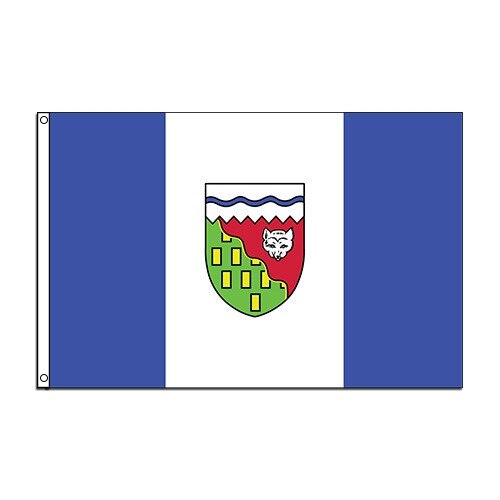 Details
Our Nylon Northwest Territory Flags are crafted with the finest nylon material, detailed craftsmanship and exquisite, durable stitching.
Northwest Territory Flags:
200 Denier Solarguard® Nylon (Nyl-Glo®) Flag
Two sizes which meet official Canadian and industry standards
Strong, light-weight material that dries quickly
Fitted with canvas heading and brass grommets
Designed for long term outdoor use
Great display for homes, school, church or office
Northwest Territory flags reflect the landscape, nature and environment of the region with splendid, rich colors. The Northwest Territories flag is blue and white with three vertical stripes and the region's shield at the center. The blue color represents the massive amounts of waters within the territories while white represents snow and ice. Our Northwest Territory flags are single reverse and available in two sizes: 3' x 5' and 3' x 6'. 3'x 6' Northwest Territory flags are sized based off the official Canadian standards flag ratio 1:2. These lightweight nylon flags are strong and durable yet fly effortlessly in the slightest breeze. Canada Territory flags are crafted with Solargaurd® Nylon which resists damage for the wind, dust, dirt and the sun. Carrot-Top provides all 13 Canadian Province and Territory flags. These nylon flags ae recommended for areas with light to moderate winds.
Carrot-Top fashions a wide assortment of patriotic, special event and custom made products. Our Canada flags and American flags are available flags are available in a variety of sizes and fabrics. Our exclusive Beacon® Nylon American flag and the Patriarch® Polyester American flag are two of the finest fabrics of flags constructed in the industry. Browse our custom section for great products and items that may be customized with the logo, photo or image of your school, business, church or organization. Carrot-Top also provide sports flags such a Major League Baseball team flags and NFL team flags. For further details, please fill out our contact us form and one of our Customer Care Representatives will be in touch with you.