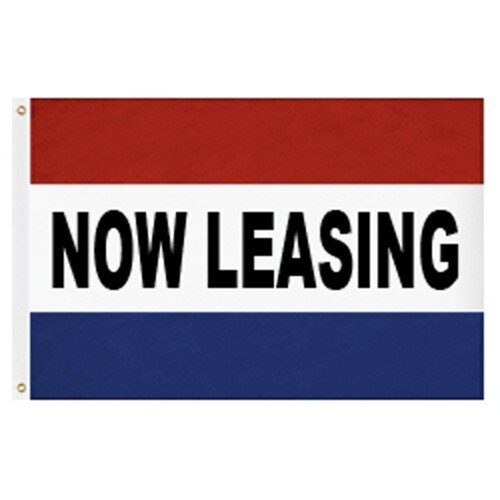 3x5 Ft. Nylon Now Leasing Flags
Details
Full Product Details of Our Now Leasing Flags:
Attract attention to your rental property with a now leasing flag. These bright and bold flags will help promote vacant properties to potential renters and stand out in the streets. The eye-catching design includes strong messaging and a sense of urgency. Fill vacant properties faster with leasing flags!

Constructed of lightweight 200 denier nylon

Strong canvas header and brass grommets that easily attach to outdoor flagpoles

Single reverse finish, with mirror images on both sides

Recommended for indoor and outdoor use

Note our single-sided flags are printed with a single/reverse technique. This means the message appears reversed on the back.
Why Buy Our Nylon Now Leasing Flags?
Our now leasing flags' high-quality craftsmanship make them an ideal choice for property managers. Sized 3'x5', these flags are perfect for outdoor use and will fly during low winds. Nylon's remarkable water resistance allows the flag to fly during wet weather conditions and prevents deterioration from mold and mildew. Nylon is the best flag fabric for wall-mounted flagpoles since heavier fabrics can sometimes break the flagpole.

The now leasing flag's simple but bold design makes them a best-seller among our advertising flags. While the top and bottom stripes can vary in color, the center stripes will always be white, with the word "Now Leasing" prominently printed in the middle.
What Businesses Can Benefit from Flying Now Leasing Flags?
Several types of businesses can stand out by flying leasing flags. If you are a real estate agent looking to host an open house, these flags make it easier for customers to find your property. Apartment complexes can fly these flags to show they have vacancies. Car dealerships can advertise their selection of new cars available for leasing.
Looking for Other Ways to Attract New Renters?
Carrot-Top's unbeatable selection of advertising and messaging flags help your business stand out with bold and bright colors. Our leasing advertising blade flag will catch the eye of passing cars with bold text and a vivid color scheme. You can also purchase a now renting swooper flag kit. This flag kit comes with everything you need to set up your display. It includes a 15' flagpole, swooper flag, and heavy-gauge ground spike and makes an eye-catching yard sign.

Those looking to incorporate their brand style into their flag can choose from any number of custom flags. Custom flags come in standard and advertising flag shapes. To get started, submit your design request to our team, and they will show you a proof of your flag design within 4–5 business days. Popular flag shapes include flutter flags, teardrop flags, pennants, feather flags, and more! Carrot-Top offers several fiberglass poles suited for advertising flags. Please read our FAQ for more information on our custom flag process.
Attract Customers to Your Property with Carrot-Top Industries!
Carrot-Top's now leasing and other advertising flags will help raise awareness for your brand and attract new customers to your business. You can also choose from our selection of American flags. Our Beacon® Nylon American Flags are a customer favorite and show off your patriotism with style. For more information or help with checkout, use our contact us form to speak with a Flag Pro.