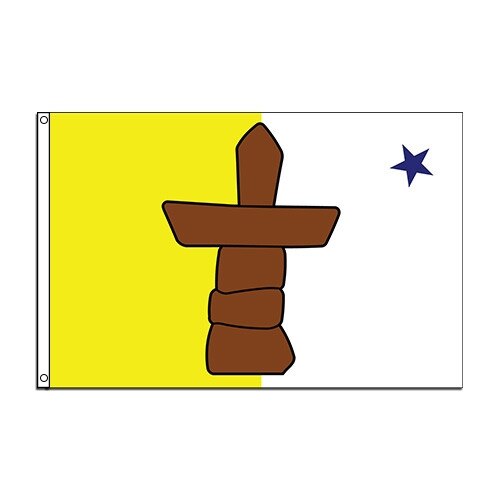 Details
Our Nunavut flags are fashioned with the finest materials and show off your love and pride for this Canadian territory. View the flags below for the best Canada territory banner that suits your needs.
Carrot-Top's Nunavut Territory flags:
Crafted with premium, lightweight Nyl Glo® nylon
3'x 6' flag tailored for official displays with (national) Canada flag
3' x 5' flag meets industry display standards for home, church or school, etc.
Single reverse imagine with strong and sturdy canvas heading and brass grommets
Designed for long term use in areas with the light to moderate winds
Dry quickly and fly beautifully in the slightest breeze
Nunavut Territory flags vividly showcase yellow and white vertical stripes with red background with a red inuksuk in the center. A blue star is displayed in the upper right hand corner. The blue and yellow colors represent the. The blue star in the upper right represents the North Star. Blue and yellow colors represent the riches of the land, sea, sky. The inuksuk is a stone monument that guides travelers to sacred sites. The color Red symbolizes Canada. The flag of Nunavut was officially adopted on April 1, 1999.
Our Nunavut Territory flags are some of the finest nylon flags available. Carrot-Top's Nunavut flags are built with a strong and sturdy canvas header and solid brass grommets. These durable flags dry in moments and fly effortlessly and create dynamic and beautiful displays. Shop our section of Canada flags includes national Canadian flags in several sizes as well as flags of each Canadian province and territory. For further details, please fill out our contact us form and one of our Customer Care Representatives will be in touch with you.