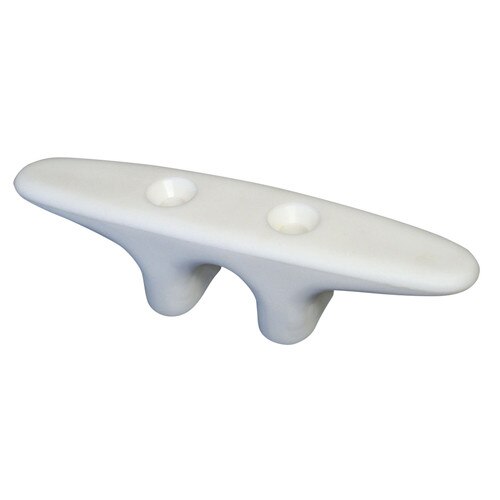 Nylon Flagpole Cleat For Colonial Poles - White
Details
This Nylon Flagpole Cleat is best used as a replacement component when a new cleat is needed for your Colonial Flagpole.
Complete measurements of 4 ¼" in length by 7/8" in width with 1 1/8" between the pre-drilled holes
Two (2) #10 Self-Tapping mounting screws included for optimal installation
Crisp, white cast nylon finish matches perfectly to our Colonial Flagpoles of any height
Designed to hold halyard securely in place
Our Nylon Flagpole Cleat is ideal for use with our Colonial Flagpoles. Perfectly-sized and finished to match seamlessly, this is the best replacement cleat component for this style of flagpole. Designed specifically for our Colonial Flagpoles, this cleat measures 4 ¼" in length with a width of 7/8". Included are two (2) #10 Self-Tapping mounting screws to allow for ease of installation with the pre-drilled holes. The cast-nylon finish also provides an added level of protection for the weather elements.
Along with this nylon flagpole rope anchor, all other accessories and replacement components are available for our Colonial Flagpoles as well as all other outdoor Commercial and Residential flagpole styles offered by Carrot-Top Industries. Our outdoor United States Flags provide an impeccable finishing touch to any flagpole display. 100% American-made, our Carrot-Top exclusive Beacon® Nylon and Patriarch® Polyester styles are our best all-around American flags while still providing the most bang for your buck! For more information, questions or to inquire about items not found on our website, please fill out our contact us form and one of our customer care representatives will reach out to you!