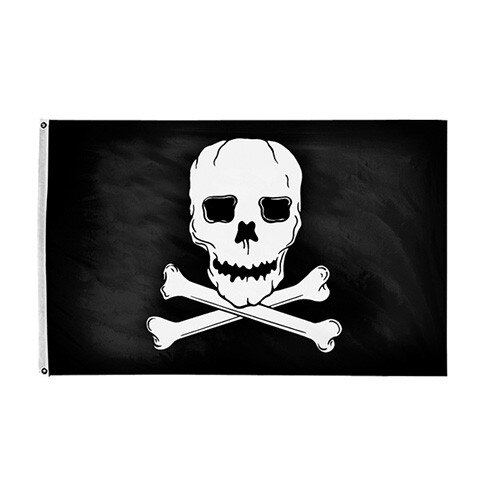 Details
You don't have to be a pirate to appreciate a Nylon Jolly Roger Flag! The familiar pirate flag with a skull-and-crossbones design on a black background is on lightweight nylon fabric.
Digitally printed flag
100% Nylon fabric is treated for UV resistance
Finished with canvas header, brass grommets
Choose from 2' x 3', 3' x 5' or 4' x 6' sizes
Single-reverse digital printing

Proudly Made in U.S.A.
Why Buy a Nylon Jolly Roger Flag?
Historians have traced the skull and crossbones flag as far back as 1687, when nautical privateers began to turn to piracy. It's believed that the term "Jolly Roger" may have been derived from "Jolie Rouge," or "Pretty Red" in French; however, "Jolly Roger" was also a term for a jovial and carefree man, dating back to the 17th century.
Carrot-Top's Nylon Jolly Roger Flag bears the familiar black background with skull and crossbones on lightweight-but-sturdy nylon fabric. This pirate flag is finished with a canvas header and brass grommets for ease of display, and features a double row of stitching at the edges for long life. Choose from 2' x 3', 3' x 5' or 4' x 6' sizes.
For further details, please fill out our contact us form and one of our Customer Care Representatives will be in touch with you.