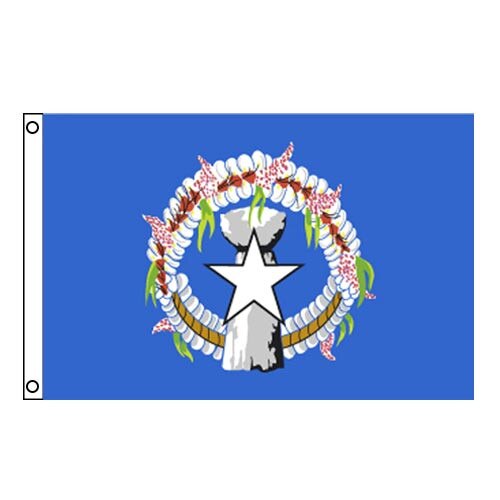 Nylon Northern Mariana Islands Flag - 3X5'
Details
This Northern Mariana Islands Flag is made of lightweight yet durable 200 denier nylon and features a canvas heading and brass grommets for long-term, outdoor use. With a single-reverse construction, this flag will feature a correct reading on one side with the reverse design on the back. To order the Northern Mariana Islands nylon flag, enter your desired quantity below and click the "Add to Cart" button. For more information, see our description tab below.
Our Northern Mariana Islands Flag measures 3x5' and will easily fasten to any flagpole that is set-up to accommodate this size of flag. The canvas heading and brass grommets will allow for long-lasting use. Gaining full Commonwealth status in 1986, The Commonwealth of The Northern Mariana Islands adopted their original flag in 1976. The 1972 flag design was changed in 1981 and is the current design used to represent their territory today. This flag features 3 symbols with a vibrant blue background. The background represents the ocean of the Marianas Trench, the star represents the United States of America, latte stone to represent the traditional foundation stone used in building and a floral head wreath represents elements of the native Chamorro culture.
Along with the Northern Mariana Islands flag, Carrot-Top Industries also offers the flags for the additional 4 Territories of the United States: Guam, Puerto Rico, American Samoa and Virgin Islands. Also available are the flags of our nation's 50 states as well as American-made United States flags. Available in both indoor and outdoor styles, our United States flags are available in a lightweight yet durable nylon as well as a heavy-duty polyester made for higher wind areas. Our exclusive Beacon® Nylon and Patriarch® Polyester are the best all-around, matching a great price with superb quality. For more information, please fill out our contact us form today!