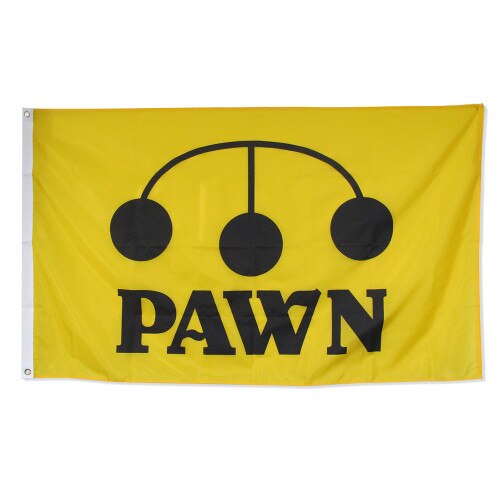 Details
The Pawn shop flag features a Spanish Yellow background with bold black lettering. Made of lightweight yet durable nylon, this outdoor flag will surely attract customers from all over. Finished with a white canvas heading and brass grommets, the pawn shop flag will be simple to attach and easy to remove during inclement weather. Made in America. To order this Pawn flag, please enter your desired quantity below then click the "Add to Cart" button. For more information, please see the description tab below.
Our 3x5' Pawn shop flag is ideal when looking for a cost-effective yet eye-catching option of attracting customers to your business. Perfect when opening a new business or for attracting new customers to a long-known establishment, the bright golden yellow is guaranteed to attract customers both old and new. Featuring the Pawnbrokers symbol that has been in use since the Medieval Period in Europe, this flag is sure to pay homage to the Medici Family, whose family crest is the same symbol, and are believed to have been the first "pawnbrokers" of their time.
Completed with a screen-printing process on 200 denier nylon, this flag is finished with a white canvas heading and brass grommets and will attach easily onto our Outrigger Pole and Bracket Sets with flag collars or onto our In-Ground Mounting Kits with cable ties. If you are looking for a more customized design, browse our custom blade, feather and teardrop flag shapes. While displaying your Pawn flag, flying your United States flag, available in both our Beacon® nylon and Patriarch® polyester, simultaneously makes for a great pairing to show your business and patriotic pride. For more information on the flags on this page or to inquire about creating your own custom design, please fill out our contact us form and one of our Customer Care Representatives will reach out to you!