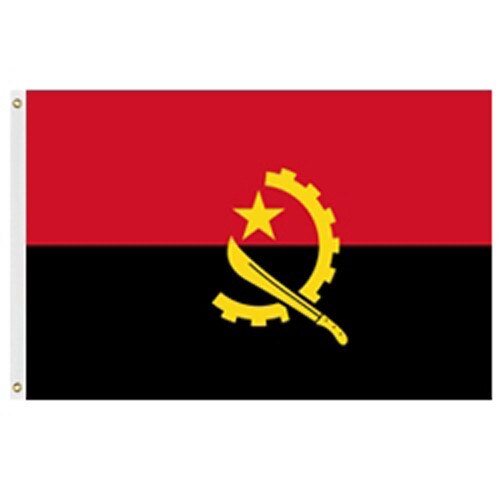 Details
Outdoor Angola flags can be attached to any flag pole with ease. These flags are made of durable nylon and feature vibrant colors and a solid header and grommets for attachment. Nylon Angola flags are ideal for outdoor use in all-weather conditions with moderate wind speeds.
Our outdoor Angola flags can be bought in 4 different sizes to fit your flag pole. See the description below the product selection options for more information. To order a flag select a size from the drop down menu, enter the quantity required and then click on the "Add to cart" button below.
Outdoor Angola Flags feature a sturdy design ideal for all-weather use. Nylon Angola flags can be display in dry and wet conditions. These flags are extremely light and will fly proudly with just a small gust of wind. In wet weather the water resistant quality of the nylon material prevents the outdoor Angola flag from absorbing water and allows for quick drying creating a fully-fledged flag display even when the flag is wet. The Angola flags featured here can be attached to almost any outdoor flagpole thanks to its header and grommets. Use a snap hook and flag pole rope to connect the flag to the flag pole for a complete flag display.
The Outdoor Angola flag is an exact depiction of the Angola flag as dictated by the official authorities of Angola. The Angola flag's background is divided horizontally into a red portion and black portion. The red half, placed above the black half, symbolizes the blood shed by the people of Angola during their oppression and civil war that took place soon after gaining independence. The black half stands as a symbol for the continent of Africa. At the center of the flag is a yellow graphic portraying a part of a cog wheel, a machete and a five pointed star. The cog wheel is a symbol for industry, the machete stands for agriculture and the star acts as a symbol to represent solidarity.
See our indoor Angola flags for great indoor and parade displays. To complete your flag display pick out a flag pole and the outdoor flag pole accessories you need to complete the set. We supply a large range of flag poles including indoor and parade poles which can be coupled with our extensive range of indoor flag pole accessories. Browse through our unmatched collection of American flags, our range of custom products and our property and event management items to find more products that'll fit your needs. For further details, please fill out our contact us form and one of our Customer Care Representatives will be in touch with you.