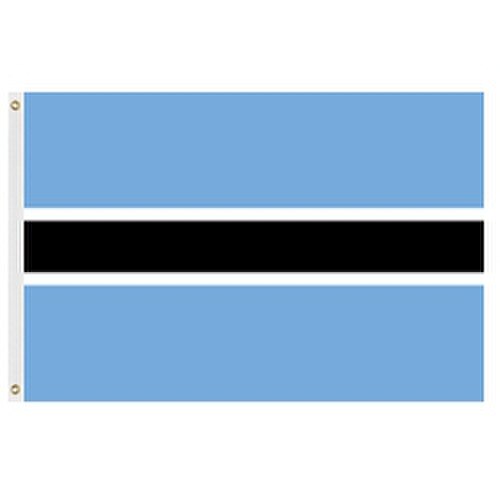 Details
All of our Outdoor Botswana flags are made of solid and durable nylon and feature high quality finishing. These flags are built to be mounted on any outdoor flagpole with an appropriate height and base diameter.
The outdoor Botswana flags are available in 4 sizes to fit you needs or an existing flagpole. For more details about these flags see the description tab below. To order and outdoor
Outdoor Botswana flags are made of sturdy nylon material specially designed for outdoor flags and are available in the following sizes, 2'x3', 3'x5', 4'x6', 5'x8'. These nylon flags are perfect for all weather conditions and perfectly suited to handle rain and moderate wind speeds. The outdoor Botswana flags are water resistant and dry quickly to produce a waving display even in wet weather. The flags are extremely light making for a full display even with a slight breeze.
The outdoor Botswana flag features a light blue background with a thick horizontal line that passes through the center of the flag. The black line is bordered by thinner white stripes on either side. The light blue background represents the sky and the black and white lines are an indication of the racial harmony that exists between the people of varying races in Botswana.
See our indoor Botswana flag for a professional and polished indoor flag display. Couple the outdoor Botswana flag with one of our flag poles and our outdoor flag pole accessories. For indoor flag displays we have our indoor and parade flag poles that may be coupled with our indoor flag pole accessories. We supply high quality custom products, property management items and a large range of American flags including our exclusive Patriarch® polyester American flag and the Beacon® nylon American flags. For further details, please fill out our contact us form and one of our Customer Care Representatives will be in touch with you.