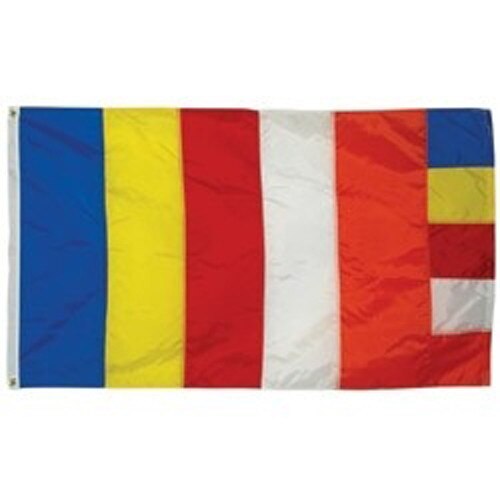 Details
Outdoor Buddhist flags are the symbol of faith and peace used universally represent the Buddhist faith. The flag was first displayed in Colombo, Sri Lanka in 1885. Our Buddhist flags are crafted with superior nylon and feature vivid bold colors and exquisite, reinforced lock stitching. These impeccably made flags are available in two sizes: 3'x5' and 4'x 6'. Order your Outdoor Buddhist flag by entering the quantity you desire and clicking "Add to Cart". For more information about our Outdoor Buddhist flags see the description tab below.
Outdoor Buddhist flags are crafted with premium 200 Denier nylon and feature intricate, double stitched seams that resist fraying. Outdoor Flags are finished with a strong canvas heading and brass grommets which allow for easy attachment to your flagpole. The five vertical of the flag represent the colors of the aura while the last vertical stripe contains all the other colors. Buddhists believe the aura sprang from the body of the Buddha when he attained Enlightenment. The blue symbolizes loving kindness and peace while yellow signifies the Middle path- avoiding extremes and emptiness. Red represents the blessings of practice (achievement, wisdom and virtue) and white represents the purity of Dharma leading to liberation outside of time and space. Orange stands for the Buddha"˜s teachings or wisdom. Browse our complete collection which includes Indoor Buddhist flags and Buddhist flag sets.
Carrot-Top fashions items for all types of occasions including one-time events, ongoing presentations and permanent displays. Our flags, custom products and patriotic items are always a great option for gifts or displays at home or the office. Carrot-Top's flags includereligious flags, international flags, US State and City flags, American flags and more. Our American flags include our exclusive Beacon® Nylon American flag and the Patriarch® Polyester American flag. For further details, please fill out our contact us form and one of our Customer Care Representatives will be in touch with you.