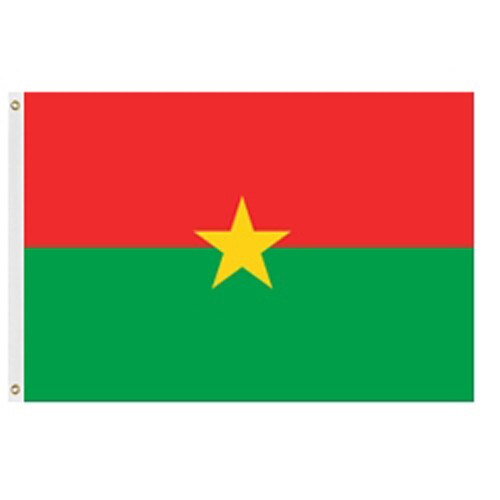 Outdoor Burkina Faso Flags
Details
Our Outdoor Burkina Faso flags are designed for all-weather use in any location in the country. These flags are known to last long periods of time in moderate wind speeds. They are made of durable nylon making them ideal for wet and dry weather.
The Outdoor Burkina Faso Flags are available in 4 sizes, 2'x3', 3'x5', 4'x6' and 5'x8'. Flags are available with a header and grommets for easy attachment. For more details see the description below. To order a Burking Faso outdoor flag select a size, enter the number of flags you would like and click on the "Add to cart" button below.
Our outdoor Burkina Faso flags are perfect for showing your pride and for use in official or professional flag displays. They are made of strong and durable nylon making them perfect for use in any location and in all weather conditions. The flags are water resistant and are capable of drying quickly when wet. Their water resistance coupled with the light weight design allows the flag to fly proudly with a light breeze even when wet.
The outdoor Burkina Faso flags feature the official design as recorded by the government of Burkina Faso. The flags are divided horizontally in to two halves. The top half is colored red while the bottom half is green. In the center of the flag is a yellow, five-pointed star. The red portion of the flag symbolizes the struggle for peace and revolution. The green portion of the flag serves as a reminder of the natural beauty and riches of Burkina Faso. The yellow star in the center represents the guiding light of revolution.
For indoor displays see our indoor Burkina Faso flags and browse our collection of world flags to find more national flags. Carrot-Top offers outdoor commercial and residential flag poles for all-weather displays and a large range of outdoor flag pole accessories to finish your display. In addition to these products browse through our custom items, military products and property management categories. Carrot-Top Industries is a proud supplier of high quality American flags. For further details, please fill out our contact us form and one of our Customer Care Representatives will be in touch with you.