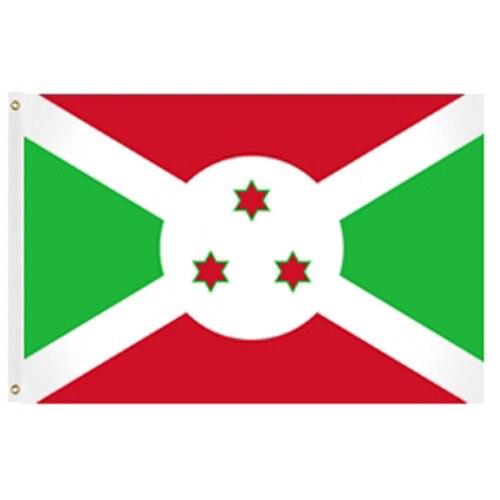 Details
Outdoor Burundi flags are perfect for all-weather displays anywhere in the country. These flags are made of heavy duty nylon material allowing them to be light yet durable. The flags come with a header and grommets sewn on to it for easy attachment to any outdoor flag pole.
Outdoor Burundi flags come in four different sizes, 2'x3', 3'x5', 4'x6' and 5'x8'. To order a flag select a size, enter the quantity required and click on the "Add to cart" button below. For further information see the description tab below.
Our outdoor Burundi flags are built for use with any external or internal halyard (flagpole rope) system flag pole. These flags feature a strong canvas header and two brass grommets. The grommets allow for attachment using snap hook to the flag pole halyard. The flags feature the official design and can be used in any official flag display. The flags are made of durable and water resistant nylon creating a light weight display that will wave proudly even when wet.
The outdoor Burundi flags feature a white background with four triangles extending towards the center of the flag. The white space between the triangles create a white St. Andrews cross. The two triangles above and below the center of the flag are colored red while the triangles on the sides are green. The flag is designed with a circular area of white space directly in the center of the flag. In the white space are three six-pointed stars that represent the three main ethnic groups that live in the country and the three virtues of the country's motto, Unity, Work and Progress.
See our indoor Burundi flags and our entire collection of International flags including many different African flags and other countries from most of the world's continents. See our outdoor residential and commercial flag poles to pair with your Burundi flag. We carry indoor and parade flag poles as well. Finish off all your flag displays with indoor and outdoor flag pole accessories. Browse through our American flags, Custom products, Military items and our property management solutions to find more useful products. For further details, please fill out our contact us form and one of our Customer Care Representatives will be in touch with you.