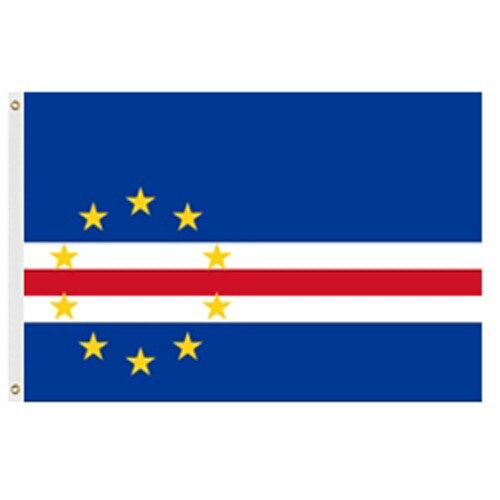 Details
Our Outdoor Cape Verde flags are ideally built for all-weather display in any location.
Cape Verde flags are made of solid nylon material
Flags are fitted with a strong canvas header and brass grommets
Flag sizes available: 2'x3', 3'x5', 4'x6', 5'x8'
Outdoor Cape Verde flags are perfect for displays in all-weather situations in any part of the country. These flags are built using durable nylon flag fabric. The flags feature vibrant colors and a slight sheen that makes for a bright reflective surface. The nylon Cape Verde flag is perfect for both wet and dry conditions thanks to its water resistant qualities. The flags are fitted with a header and grommets which allow the flags to be attached to any outdoor flag pole when paired with a flag hook and flag pole rope.
The Outdoor Cape Verde flag is made up of a blue background with three horizontal stripes placed about two thirds of the way down the flag. The stripes consist of a red stripe in between two equally sized white stripes. The bottom left portion of the flag features a circle made of 10 yellow five-pointed stars. The blue background on the Cape Verde flag symbolizes the sea and the sky. The 10 stars act as symbols that represent the nation's islands.
See our indoor Cape Verde flag and the Mini Cape Verde flags for more display options. The indoor and outdoor flags can be easily paired with our flag poles for a complete flag display. Browse through our collection of indoor and parade poles, commercial outdoor flag poles and residential outdoor flag poles. See our vast range of American flags, Custom products and our collection of property and event management items. For further details, please fill out our contact us form and one of our Customer Care Representatives will be in touch with you.