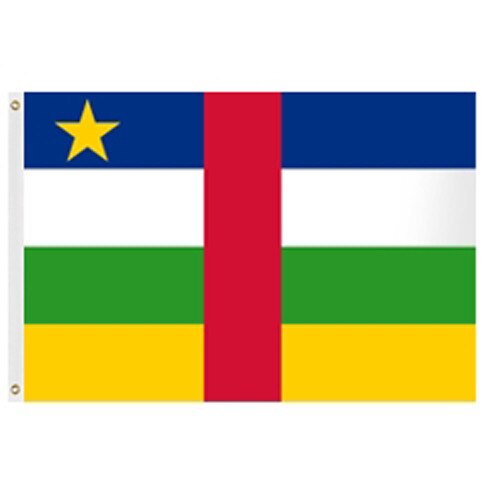 Outdoor Central African Republic Flags
Details
Our outdoor Central African Republic flags are built using nylon flag fabric and can be used with any types of outdoor flagpole with a flagpole rope and snap hooks.
Sizes available: 2'x3', 3'x5', 4'x6', 5'x8'
Flags are water resistant
Come fitted with a strong header and grommets for attachment
Outdoor Central African flags feature a solid nylon build with vibrant colors and a shiny finish. The nylon material allows the flags to be water resistant and extremely light weight. These flags can fly with just a slight breeze when dry and in wet weather conditions. These flags are ideal for any location.
Outdoor Central African Republic flags feature the official design. The flag is made up of 4 equally sized horizontal stripes, one vertical stripe and a yellow five-pointed star. The horizontal stripes are stacked on top of each other with the top most stripe colored in blue, then white, green and finally yellow. The one vertical stripe is paced in the middle of the flag and is colored red. The star is placed on the blue stripe in the top left corner (hoist end) of the flag.
For more options see our indoor Central African Republic flag and the Mini Central African Republic flag ideal for professional displays and events. Pair an outdoor flag with one of our outdoor commercial flag poles or an outdoor residential pole. See our indoor and parade flags for use with an indoor flag. Shop our collections of American flags, custom products and property management items. For further details, please fill out our contact us form and one of our Customer Care Representatives will be in touch with you.