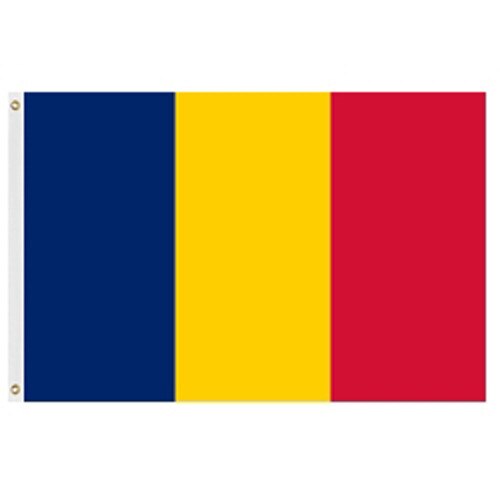 Details
Our outdoor Chad flags are ideal for display in any location and in all-weather conditions.
Flag sizes available: 2'x3', 3'x5', 4'x6', 5'x8'
Include a fitted header and grommets for easy attachment to a flag pole
Made of lightweight nylon, flies proudly with a slight breeze
Water resistant flag material.
Our Outdoor Chad flags are perfect for any location with moderate wind speeds and for display in any weather condition. These Chad flags are made of nylon flag material, widely regarded as the most flexible and versatile flag fabrics in the industry. The flags are designed to be light weight and water resistant allowing for a proud and unfurled flag display even in wet weather. The flags come fitted with a canvas header and brass grommets. These features allow the flags to be used with any outdoor flag pole and flag pole rope with the use of flag hooks.
The outdoor Chad flags feature the official design as adopted in 1959. The flag design features a simple tri bar design where the flag is divided in to three equally sized vertical stripes placed side by side. These stripes make up the body of the flag. The left stripe is colored blue and represents the sky and hope. The center stripe is yellow to represent the sun and desert. The final stripe is colored red and represents unity, progress and sacrifice.
See our indoor Chad flag and our mini Chad flag for more flag options to represent the nation of Chad. Our outdoor Chad flags can be coupled easily with one of our outdoor Residential poles or an outdoor commercial pole. Add our outdoor flagpole accessories to your display for a complete look. Browse through our impressive collections of American flags, all of our world flags and our property management products to find items to suit your needs. For further details, please fill out our contact us form and one of our Customer Care Representatives will be in touch with you.