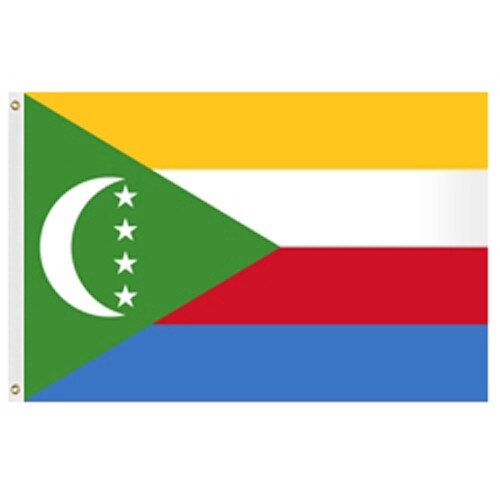 Details
The outdoor Comoros Flag is perfect for all-weather displays and can be attached to any outdoor flag pole.
Flags are made of water resistant nylon
Light-weight and fly proudly with just a breeze
Flags are known to last for months on end in continuous displays
Fitted with strong header and grommets for easy attachment
The outdoor Comoros flag is made of nylon flag material making it both light-weight and water resistant. Nylon flags also feature vibrant and rich colors thanks to their glossy finish, ideal for a glowing flag display. The flags come with an attached canvas header and brass grommets on the hoist end of the flag. The header and grommets allow the flag to be attached to any outdoor flag pole rope using flag hooks.
The outdoor Comoros flag is designed with four equally sized horizontal stripes and an equilateral triangle that points towards the middle of the flag extending from the left of hoist end of the flag. The base of the triangle is equal to the length of the flag and it is superimposed on the horizontal stripes. The triangle is colored green and contains a crescent moon and four white five pointed stars. The four horizontal stripes and four stars are said to represent the four Islands that make up Comoros. The crescent moon and the color green is a tribute to the country's main religion, Islam.
See the indoor Comoros flag and the mini Comoros flag for more ways to celebrate the nation of Comoros. Our outdoor Comoros flags are perfect for use with any of the outdoor commercial and outdoor residential flagpoles that we offer. Pick out some outdoor flag pole accessories and combine all three element for a great flag display. We offer many different types of flagpole including indoor and parade flagpoles. In addition to these items we supply a variety of American flags, Custom products with graphics of your choice, property management goods and much more. For further details, please fill out our contact us form and one of our Customer Care Representatives will be in touch with you.