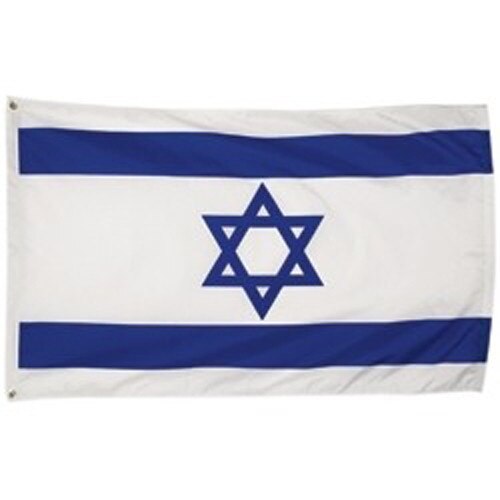 Details
Outdoor Israel flags are beautiful way to express your faith while also supporting the nation of Israel. These flags are beautifully made with intricately woven nylon and bold, vibrant colors. The design of the flag resembles a traditional prayer shawl which is white with blue stripes. The "Star of David" at the flag's center is a Jewish symbol dating back to the First Zionist Congress. Outdoor flags are available in four sizes. For more details regarding Outdoor Israel flags see the description tab below.
Our Outdoor Israel flags are fashioned with strong, woven nylon and bold, vibrant colors. These flags are perfect for areas with light or moderate winds. Outdoor Flags are finished with a super strong header and feature reinforced stitching on the fly ends to prevent fraying. Choose the best size flag for your flagpole or call for assistance. The 2'x3' is best suited for flagpoles that are 15' or higher and the 3'x5' Israel flag are best paired with 20' flagpoles or higher. The 4'x6' Zion flags are best paired with 25' flagpoles and 5'x 8' Israel flags display best with a 30' to 35' flagpole or used as a secondary flag below a 6'x10' US flag. Carrot-Top also provides Star of David Flag pole Toppers and Star of David Lapel Pins.
Carrot-Top's array of products includes flags, custom items and patriotic products. Our flags include American flags, international country flags, sports flags and novelty flags. Browse our custom products section for items that may be personalized to advertise a business or note a personal accomplishment. Our graphic designers are skilled in replicating images and logos onto signs, banners, decals, tents and more. For further details, please fill out our contact us form and one of our Customer Care Representatives will be in touch with you.