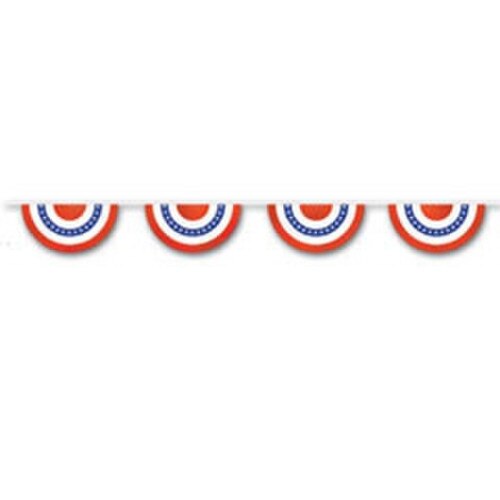 Patriotic Fan Pennant Strings
Details
Patriotic Fan Pennant Strings will give your event or celebration a classic, American feel. Patriotic Fan Pennant Strings feature the all American colors of red, white and blue and have a timeless appeal. These Patriotic Fan Pennant strings are perfect for both indoor and outdoor decorations. For more information about our Patriotic fan pennant strings please see the tab below.
Our Patriotic Fan Pennant Strings will add just the right amount of American nostalgia to your patriotic palate. These fan shaped pennants in red, white and blue will add some old time class to your party or event. Perfect for the 4th of July, these pennant strings will also turn up the patriotic tone for Memorial Day, Veterans Day and Presidents' Day celebrations or any event throughout the year. Patriotic Fan Pennant Strings are great for schools and may be used both indoors and out. The Pennant strings are available in 25' or 50'lengths and are made from out 4-mil polyethylene. They are designed for quick and easy placement and will quickly fill your location with color and American flavor
Carrot Top features a wide variety of patriotic products including a large assortment of American flags including our exclusive Beacon Nylon® American flag and our Patriarch Polyester® American flag. We also feature patriotic street banners guaranteed to give your city or town an American feel. For further details, please fill out our contact us form and one of our Customer Care Representatives will be in touch with you.