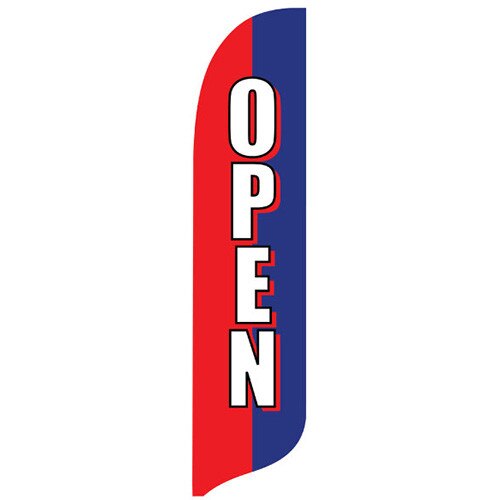 Patriotic Open Advertising Blade Flag
Details
The Patriotic Open Blade flag will let everyone know that your business or location is Open and ready for business with a patriotic bang. The Open Flag invites everyone from miles around to enter your business. These Open blade flags stand 11' tall and are perfect for both indoor and outdoor use. Featuring bright colors of red, white and blue, the Patriotic blade flags are crafted with the highest quality materials. For more information about our Patriotic Open Blade flag please see the description tab below.
Carrot Top's Patriotic Open Blade flag will make your business or store the center of attention. These eye-catching blade flags may be seen for miles. These blade flags feature the word 'OPEN' on a red, white and blue banner and measure 11'x2'. The Patriotic Open Blade flag is fashioned with durable 200 denier nylon that is strong enough to withstand outdoor elements. Digitally printed, the Patriotic Open Blade flag has a reverse image on the opposite side and is finished with a pole sleeve and grommet. Carrot Top also provides 12'advertising blade flag pole and our rotating ground spike for the blade flag pole set to assist you in creating a dynamic display.
Carrot Top features a broad range of patriotic products to fit your advertising and patriotic decorating needs. Carrot Top provides American flags in a number of sizes and fabrics. Our exclusive Patriarch® polyester American flag and our exclusive Beacon® nylon American flag are the most versatile flags available. Mini American flags are an inexpensive giveaway for your customers, clients or guests particularly on the 4th of July, Labor Day, Memorial Day, Presidents' Day or Veterans Day. Carrot Top is committed to providing excellent customer service and has a team of representatives eager to help you meet your needs. Our customer service representative have over 3 decades of experience. Please fill out our contact us form and one of our Customer Care Representatives will reach out to you!