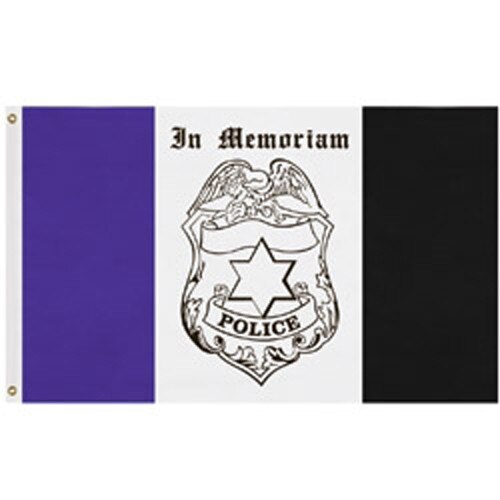 Details
Our police mourning flags act as tribute to police officers who have lost their lives in the line of duty. These flags help immortalize the memory and service of brave officers who serve their communities selflessly. These flags are also flown by police departments when officers of their departments pass away.
The police mourning flag measures 3'x5' and is built tough for long term outdoor use in all-weather conditions and moderate winds. These flags are proudly made in USA. For more about these mourning flags see the description tab below.
Our police mourning flag uses 200 denier nylon material, a fabric known for its durability, light weight and water resistant design. These flags are ideal for use in wet conditions and for long term or permanent displays. The police mourning flags come fitted with a header and brass grommets for use with an outdoor flagpole and flag hooks.
The police mourning flag is made up of three vertical stripes and a police shield in the center of it. The left stripe is colored blue, the center is white and the right stripe is black. In the center of the white stripe is an ornate shield with the image of an eagle perched atop it. In the center of the shield is a six pointed star and below the star is a ribbon that reads "POLICE". Above the police shield in black writing are the words "In Memoriam".
See our Police officer remembrance flag and police grave markers to honor a fallen officer. Other police items include our exclusive police department flag, the thin blue line flag and more. Look through our entire collection of civil service flags to honor your local heroes. Pair one of these civil service flags with an American flag to show your national spirit. Carrot-top proudly offers military and memorial products to honor soldiers as well. For more about our products please fill out our contact us form and one of our Customer Care Representatives will be in touch with you!