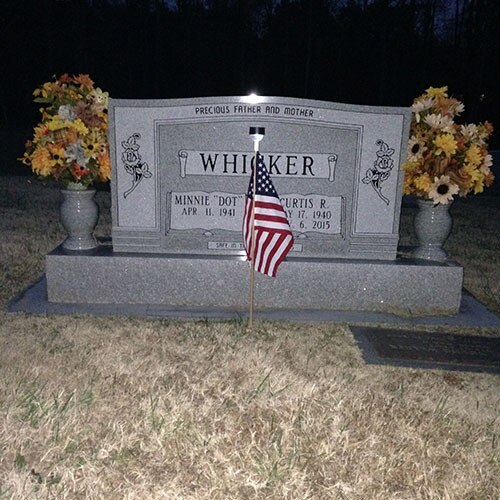 Poly/Cotton U.S. Mounted Flag With Solar Light
Details
This 12" x 18" poly/cotton U.S. flag comes with its own solar pole light for brilliant illumination at night. This "green" solution is like a solar-powered garden light. It absorbs the sun's energy all day, stores it by using rechargeable batteries, then lights up solar-powered LED lights after sunset to illuminate the flag.
Perfect not just for gravesites, but anywhere you might like to make a lasting patriotic statement
Light comes on at dusk and stays illuminated until dawn
Works easily with an existing grave marker
12" x 18" poly/cotton US flag is hemmed on all four sides, then affixed to a 30" x 3/8" dowel with three staples
Why Buy Poly/Cotton US Mounted Flag with Solar Light?
This solar pole light/flag set can be used in areas with full, direct sunlight, but not shady spots. You will first need to remove a small tab inside the light's housing by lifting the lens and pulling out an orange strip. The light will then be ready to charge. The solar pole light will absorb a full charge within 10-12 hours. In wintry weather, the solar cells will need to be kept clear of snow and ice to properly recharge. Powered by a 1.2 volt AAA Ni-Cd battery (included).
Consider pairing this flag and lamp with our 3' x 5' Beacon American flag or bronze military grave markers. For a more elaborate display, the Mansion set with solar light can be a good match.