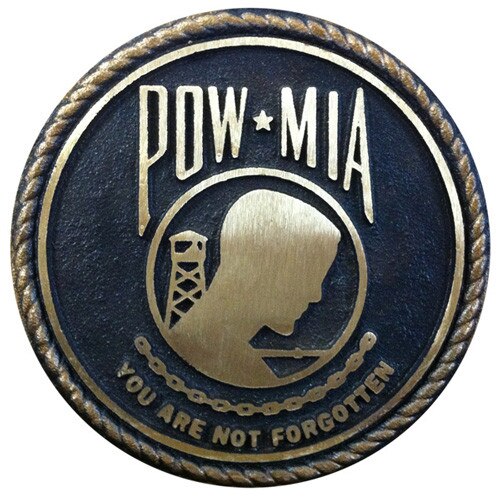 Details
The Bronze POW MIA Logo Seal is a great way to finish a memorial or tribute to a soldier who has been taken prisoner or is missing in action. All of our POW MIA logos come with a life time guarantee and are made of solid bronze materials with a 3D carved finish.
Our Bronze POW MIA Logo Seals come with a life time guarantee. For a more detailed description see the tab below the product selection options.
The Bronze POW MIA Logo Seal is available in a seal with a diameter of 6" or 15". Both of the bronze seals are covered by our lifetime guarantee and require no maintenance and are built for long term displays. The bronze logos are finished with blind mount screws that allow for a flush appearance on a surface. The mounting screws required for attachment are included in the purchase. The bronze POW MIA logo features the iconic silhouetted profile image of a soldier with the military outpost in the background. The words "YOU ARE NOT FORGOTTEN" appear below the logo.
Browse through our full complement of bronze seals ideal for tributes and memorial displays. Also see our full collection of POW MIA items. Our military and memorial products also include military flags with the official insignia, Veterans items and grave markers. Show your support for the soldiers of the U.S Armed forces with our exclusive support our troops flags. Our American flags are a great way to show your national pride as well. For further details, please fill out our contact us form and one of our Customer Care Representatives will be in touch with you.