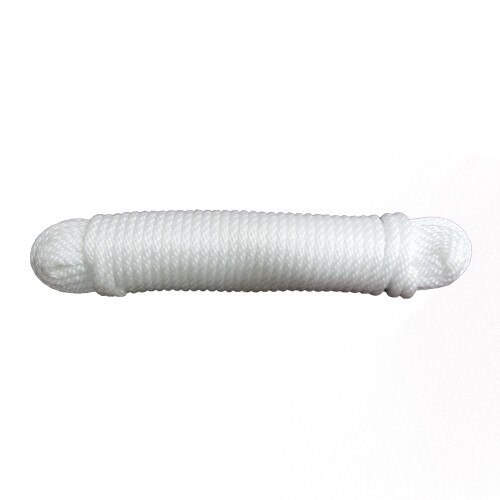 Details
The pre-bagged halyard rope measures 28' & 40' and is designed to be used with our low-cost colonial flagpoles. 28' long halyard is for use with the 12' Colonial Pole, while the 40' long halyard is for use with the 18' or 22' Colonial Pole. Halyard rope, also known as flagpole rope, is intended to be used with flagpole to raise and lower your flag.
The pre-bagged flagpole rope comes in a single packaging cut exactly to 28' or 40' in length. Read the description tab below for more detail about the pre-bagged Halyard Rope.
The pre-bagged halyard rope comes conveniently packed and bagged in a single package. Flagpole rope is often cut off a larger spool of rope into customized lengths upon request. The pre bagged flagpole rope is specially packaged and cut to fit the pulley located at the top of the Colonial flagpole.
Tailor made for the Colonial flagpoles, this halyard is available in lengths of 28' and 40'. The entire 40' rope weighs about .75lbs and can easily be transported to an off-site flagpole display
If you have questions about which flagpole rope to use with your flagpole do not hesitate to give us a call. Our experts have 35 years of experience in the industry and ready to answer questions you might have about choosing or using your halyard rope. Carrot-Top places a premium on customer service and you can rest assured that we will provide you with a solution.